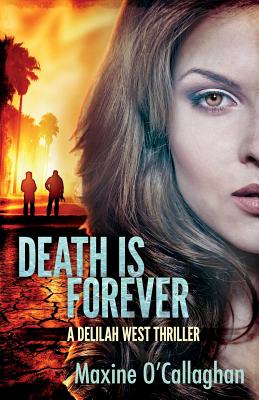 Death is Forever
A Delilah West Thriller
Paperback

* Individual store prices may vary.
Description
"The feisty West is considered one of the first of the modern women PIs and 
also one of the grittiest," Los Angeles Times 
 Before Kinsey Millhone, Sharon McCone and V.I. Warshawski, there was Delilah West, the sensitive, gutsy and resourceful private eye who shattered the boundaries of mystery fiction...and now she's back. DEATH IS FOREVER The first Delilah West novel by Maxine O'Callaghan, honored by the Private Eye Writers of America with their Lifetime Achievement Award. Ex-cop Delilah West is working as a PI with her husband Jack when he's killed while investigating a missing person's case. Grief-stricken and enraged, she becomes obsessed with finding the killer...only to wake up drugged in a skid-row hotel room with him lying beside her with a knife in his back. It's the perfect frame, nailing her for an obvious revenge killing. Now she's on the run...living on a razor's edge trying to avoid capture while searching for the murderers who've destroyed her life. "A no-frills tale that's as good a marriage
 of detective work and domestic problems as you're likely to see," Kirkus Reviews "Delilah's mistakes and emotional turmoil have a refreshing realism." Sun-Sentinel (Orlando)
Cutting Edge Publishing, 9781941298220, 168pp.
Publication Date: June 11, 2014
About the Author
Author of the groundbreaking Delilah West private eye series Private Eye Writers of America Lifetime Achievement Award Winner Shamus, Anthony and Bram Stoker Award Nominee Maxine O'Callaghan was born in Tennessee in 1937 and grew up in the boot heel of Missouri as a sharecropper's child. She was the first in her large extended family to finish high school and left a few days after graduation with ten dollars and a bus ticket for Memphis. She went from there to Miami where she joined the Marine Corp Reserve and then to Chicago where she went on active duty for a while and got her first taste of California during basic training at the Recruit Depot in San Diego. In 1972 she moved with her husband and two children to Orange County, CA, a long way from the cotton fields of her childhood. As a stay-at-home mom she began her writing career with short stories, including one to Alfred Hitchcock's Mystery Magazine about a private detective named Delilah West, which predates both Marcia Muller and Sue Grafton's entry into the female PI genre. She published thirteen novels and a collection of short stories. She has been nominated for both the Anthony and Bram Stoker award. Her novels and short fiction featuring Delilah West were honored by the Private Eye Writers of America with their lifetime achievement award, The Eye, for her contribution to the field.