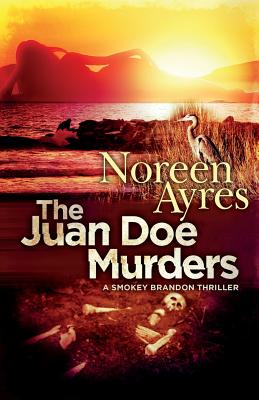 The Juan Doe Murders
A Smokey Brandon Thriller
Paperback

* Individual store prices may vary.
Description
"Tough, hip, visceral and lusty." - Kirkus Reviews Someone is killing illegal, Hispanic immigrants and leaving their bodies strewn like trash across Orange County, the playground of Southern California's rich and privileged. But the murders go largely unnoticed, the anonymous, "Juan Doe" victims as invisible in death as they were in their hidden lives, toiling in low-wage jobs serving the wealthy.... until forensics specialist Samantha "Smokey" Brandon sees the gruesome pattern. "A swift descent into sunburned decadence." - Booklist Smokey is an ex-cop and former Las Vegas stripper, a childless widow who has seen a lot of death in her job. But it hasn't dimmed her compassion or dedication. These victims aren't invisible to her. She won't stop until she finds the killer, even if it means confronting her darkest demons and sacrificing herself to them. "Moody, rich, impressive...the most distinctive new crime professional since Patricia Cornwell's Kay Scarpetta." - Washington Post.
Cutting Edge Publishing, 9781941298244, 194pp.
Publication Date: June 16, 2014
About the Author
Edgar Award Nominee If you love CSI or NCIS, you'll love the mysteries of Noreen Ayres. This Edgar Award finalist was writing memorable and compelling crime fiction with a focus on forensics long before those shows emerged on the scene. She broke new ground in the crime fiction genre with The Juan Doe Murders and her two prior suspense novels featuring Smokey Brandon, an ex-Las-Vegas-stripper-and-police-officer-turned forensic criminalist. Smokey finds herself involved cases that cut a little too close to home - and Ayres' plucky heroine is as sunny and complex as the Southern California world where she solves crimes. In addition to her novels, Ayres is also an acclaimed short-story writer. Her stories have been featuring in many mystery and suspense anthologies and earned her an Edgar Award nomination for "Delta Double Deal," her contribution to the collection The Night Awakens. For gritty police procedurals with a fun and sexy twist, Noreen Ayres' Smokey Brandon series can't be beat.