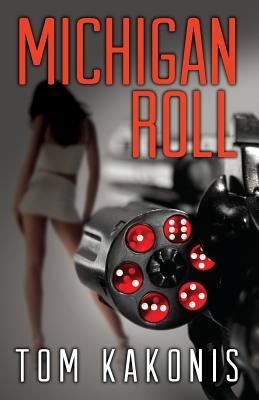 Michigan Roll
Paperback

* Individual store prices may vary.
Description
THE MASTERS OF CRIME FICTION BET ON TOM KAKONIS... "Kakonis can really write. In Waverly, he gives us a wonderful character in a brutal world," Tony Hillerman "Michigan Roll is fast, strong, harsh and beautiful," Donald Westlake "A wonderful novel - smart, light and mean," T. Jefferson Parker "Tom Kakonis is a master of the low-life novel. Nobody does it better." Ross Thomas "A cold-deck nightmare of high-stakes peril," Daniel Woodrell ...AND A NEW KIND OF HERO IN AN UNFORGETTABLE THRILLER Ex-con, professional poker player Timothy Waverly travels to Traverse City, Michigan for a break...and falls into bed with a seductress named Midnight. She's an out-of-towner, too, there to rescue her self-destructive brother, who has stupidly ripped off a fortune in cocaine from a vicious Chicago mobster. Now she is being chased pursued by Shadow, a hemorrhoidal hitman who gleefully specializes in torture and rape, and Gleep, his muscle-bound henchman. The odds are stacked against her, but Waverly is a gambler who knows how to play them... "A sure narrative voice, a richly shaded hero and heroine, nightmare-vivid villains, and a plot paved with switchbacks and big curves add up to classy, if brutal, crime entertainment: this one cooks," Kirkus Reviews "Aptly compared to Elmore Leonard, Kakonis builds exquisite tension." Publishers Weekly "Original, brutal, nightmarish. Kakonis is a sharp new gambler in the literary crap game. He just takes the pot,"
The New York Times.
Cutting Edge Publishing, 9781941298336, 276pp.
Publication Date: August 14, 2014
About the Author
Master of Crime Fiction Tom Kakonis has been hailed by critics nationwide as the heir-apparent to Elmore Leonard... and for good reason. His stunning thrillers blend dark humor with gritty storytelling for compelling, and innovative crime noir capers packed with unique, sharply drawn characters and shocking twists. All of those talents are on full display in Treasure Coast, his bold new thriller from Brash Books. But that success is built on a foundation of incredible crime writing. In his highly-praised debut Michigan Roll, Kakonis introduced Tim Waverly - a loveable gambler who constantly finds himself playing a game of survival against the odds. The Waverly series continued with Double Down and Shadow Counter, and Kakonis also penned the hilarious and harrowing Christmas car heist Criss Cross. Kakonis took a darker turn with Blind Spot and Flawless, two mind-blowing thrillers he initially wrote under the pseudonym "Adam Barrow." Blind Spot is a tour-de-force that tracks a father's relentless, driving obsession to save his family at any cost, while Flawless, picked as a People Magazine Chiller of the Week, centers on a chilling serial killer as his perfectly-ordered life begins to crumbled when he falls in love, his imprisoned father is released, and a relentless, and sleazy, PI starts to follow the trail of bodies to his door. And now Tom Kakonis is back with the thriller his fans have been waiting to read for years. It was worth the wait. Treasure Coast Is "Get Shorty" meets "No Country for Old Men" on a sunny Florida coast that's teeming with conmen and killers - and marks the return of Tom Kakonis at his best.