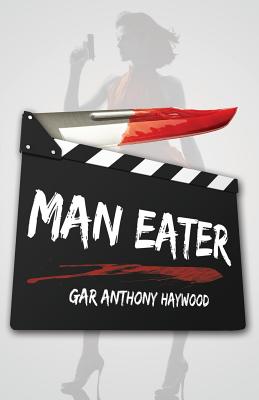 Man Eater
Paperback

* Individual store prices may vary.
Description
Shamus & Anthony Award winning author Gar Anthony Haywood's brutally funny Hollywood thriller Man Eater makes Get Shorty and The Player look like Disney movies. Ronnie Deal's no hero. She's just a drop-dead gorgeous Hollywood movie executive having a really bad day who's in no mood to watch when homicidal thug Neon Polk puts a beat down on poor little Antsy Carruth at the Tiki Shack bar. Ronnie puts Polk's lights out with a beer bottle, Antsy takes a powder, and Ronnie tries to forget the whole thing. "The best rip-off of an Elmore Leonard novel since Elmore Leonard," Publisher's Weekly - Starred Review But not Neon. Antsy stole twenty-five grand from Neon's drug-dealing boss and Ronnie's just cost him a big recovery fee, not to mention cut his pride to the quick. Neon not only gets revenge in spades, he wants Ronnie to pay him fifty grand as icing on the cake.
What Neon doesn't know is that people in The Business don't call Ronnie "Raw Deal" for nothing. Ronnie's got a completely different kind of payoff in mind for Neon now, and with the help of ex-con and aspiring screenwriter Ellis Langford--who's got big troubles of his own in the form of two psychos named Jorge and Jaime Ayala--she's about to learn how to make a real killing in Tinseltown. It all makes for one of the wildest, funniest, and chillingly authentic Hollywood crime stories ever told. "A tale bearing traces of Elmore Leonard and Preston Sturges that] suggests that LA street violence and Burbank studio infighting are the same bloodthirsty sport...a lean, funny thriller," Kirkus Reviews - Starred Review "Fast-paced as it is frothing with satirical commentary about the shark-infested suites of Tinseltown...vital and entertainingly vicious," J. Kingston Pierce, The Rap Sheet.
Cutting Edge Publishing, 9781941298459, 272pp.
Publication Date: August 24, 2014
About the Author
A three-time Shamus Award winner and an Anthony Award winner. Gar Anthony Harwood is the author of Man Eater and Firecracker, two brutally funny thrillers set in Hollywood. Man Eater earned Haywood starred reviews from both Kirkus and Publishers Weekly and well-deserved comparisons to Elmore Leonard for his fast-paced thrills and dark humor. He followed that stunning success with Firecracker, an explosive story of sports, sex, and outrageous schemes that also received rave reviews. Haywood is also the author six mysteries featuring African-American private investigator Aaron Gunner. The first novel in that series, Fear of The Dark, won the Shamus award for Best First Novel of 1989, and his Gunner short story "And Pray Nobody Sees You" won both the Shamus and Anthony awards for Best Short Story of 1995. His latest Gunner short story, "The Lamb Was Sure to Go," snagged him his third Shamus award in 2011. His other novels include two books featuring Joe & Dottie Loudermilk, retiree crime-solvers traveling in their Airstream camper. In addition to his novels and short stories, Haywood has written episodes of several TV crime shows, including New York Undercover and The District, and is a former president of the Mystery Writers of America's Southern California chapter.