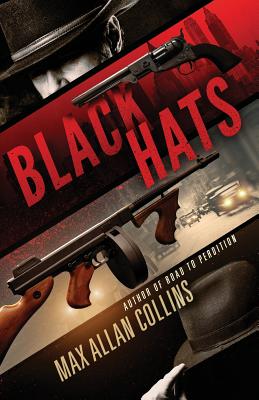 Black Hats
Paperback

* Individual store prices may vary.
Description
Legendary lawman Wyatt Earp straps on his six-shooter to battle a new breed of bad man in a new land -- rising gangster Al Capone and his machine-gun toting killers on the streets of New York City.
It's the 1920s, the glittering jazz age, and the beginning of the blood-soaked prohibition-era. The wild west and the gunfight at the OK Corral are fading memories, even for aging lawman Wyatt Earp, who is toiling in Los Angeles as a private eye and a technical consultant on cowboy movies. When Doc Holliday's son, who is running a glitzy nightclub in Manhattan, is targeted by the mob, Wyatt gladly leaves the tamed west for the wild east to defend him, pitting himself against a brutal, young gangster named Al Capone
"Wyatt Earp versus Al Capone - a wild, exciting ride." David Morrell, author of FIRST BLOOD
"Highly entertaining....Collins has outdone himself in this tale of bad guys, bullets, and booze set at the start of the Prohibition era." Library Journal
"Wyatt Earp vs. Al Capone - it might seem an improbable situation, but it could have happened, and Collins makes it work in this wild blend of classic Western and gangster characters, all set in Prohibition-era New York City" Philadelphia Inquirer.
Cutting Edge Publishing, 9781941298923, 284pp.
Publication Date: March 5, 2018
About the Author
Max Allan Collins is the 2017 Mystery Writers of America Grand Master, a Lifetime Achievement Award winner from the Private Eye Writers of America, and the author of many books, including "Road to Perdition," which became the Oscar winning film, and the Quarry novels, the basis for the hit TV series.