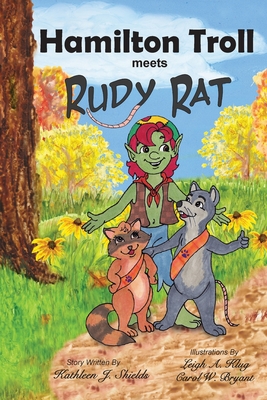 Hamilton Troll Meets Rudy Rat (Paperback)
Erin Go Bragh Publishing, 9781941345146, 40pp.
Publication Date: June 18, 2014
Other Editions of This Title:
Hardcover, Large Print (6/23/2014)
* Individual store prices may vary.
Description
Rudy is not a very nice rat according to Rosa Raccoon and the other children. He does bad things and says mean stuff and no one wants to play with him. So Hamilton decides to have a talk with Rudy. However, when Rudy Rat sees Hamilton Troll, he gets so afraid he runs off, which clues in Hamilton that Rudy may need a friend more than they thought. Hamilton then encourages the children to put their "PAWS" together for friendship. Pause what you are doing, Approach, Welcome Rudy to join the game and Smile. Rudy then feels accepted and is able to hang out with the children and have fun, creating friends rather than enemies. The Troll Patrol encourages you to be accepting. When you are nice to others, invite them to play and care about their feelings; friendships grow.