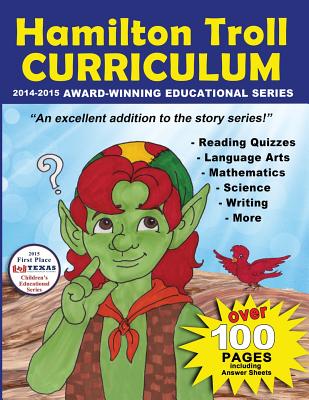 Hamilton Troll Curriculum (Paperback)
Continuing Education for Children (Hamilton Troll Adventures #14)
Erin Go Bragh Publishing, 9781941345252, 140pp.
Publication Date: June 29, 2016
* Individual store prices may vary.
Description
Teachers, home-schoolers, mom and dad - the Hamilton Troll Adventures, award-winning, educational story series has an abundant amount of learning possibilities and this curriculum workbook adds to it beautifully. Work language arts, math and even science projects into your daily reading assignments. Give accelerated reading quizzes (AR) to test the child's comprehension. Purchase the Hamilton Troll Coloring & Activity book to pique interest and provide hours of entertainment and of course, keep up with the ever growing rhyming story series. Also, be on the look-out for the Hamilton Troll Cookbook; easy to make, healthy recipes for children to do in the kitchen. Enter the World of Hamilton Troll today.
About the Author
Kathleen J. Shields is an award-winning author having won First Place Best Educational Children's Series from the Texas Association of Authors for "The Hamilton Troll Adventures." The Hamilton Troll series is educational and inspirational, teaching young children social skills, animal characteristics and how to handle real-life situations. Shields also runs a website and graphic design company called Kathleen's Graphics. She designs colorful, eye-catching websites, logos and advertisements for businesses and authors. She enjoys being challenged to learn new things. She also runs the Erin Go Bragh publishing company and has published various books; including fully-illustrated rhyming stories for ages 4 and up, children's chapter books for ages 8 and up, and young adult stories and situations. Her objective with Erin Go Bragh is to promote literacy and education through writing. Additionally, Kathleen writes an inspirational and educational blog regarding her endeavors as an author as well as a business woman and a Christian. Her views are always light-hearted and thought-provoking and are intended to get the reader thinking.