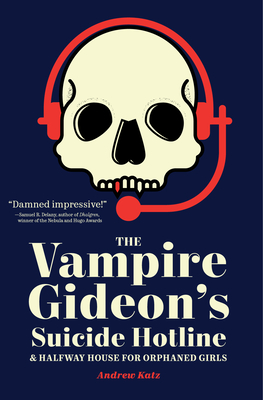 The Vampire Gideon's Suicide Hotline and Halfway House for Orphaned Girls (Paperback)
Lanternfish Press LLC, 9781941360200, 242pp.
Publication Date: October 30, 2018
* Individual store prices may vary.
Description
In the house on the hill, there lives a vampire. But not of the sexy, mysterious, or sparkling kind. The vampire Gideon prefers to drink nearly expired blood from the local morgue while watching over the humans around him--humans he calls "children," because when you're as old as he is, everyone else does seem like a child. And so many of these children are prepared to throw their lives away over problems that, in Gideon's view, appear rather trivial.
He sets about trying to fix them by means of an unofficial, do-it-yourself suicide hotline. He's sure that he's making a difference, maybe even righting the mistakes of his past. Then one day a troubled young girl calls, and his (undead) life gets turned upside down. Before he knows it, he's got a surly, tech-addicted teenage roommate--and, at long last, he begins to grow up.