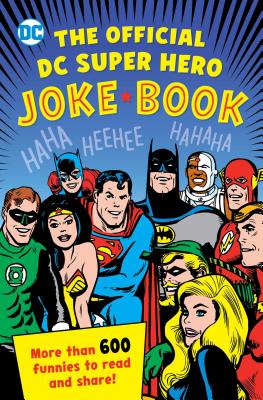 The Official DC Super Hero Joke Book (DC Super Heroes #20) (Paperback)
Downtown Bookworks, 9781941367339, 176pp.
Publication Date: March 28, 2017
* Individual store prices may vary.
Description
Knock, knock. Who's there? DC super heroes telling a slew of hilarious jokes, puns, riddles, and more.

What does Superman use to cook eggs? A pan of steel!

What's the hardest part of riding on Wonder Woman's Invisible Jet? Buckling your invisible seatbelt.

What happened when Batman was late to play baseball with Robin? There was a Wayne delay.

More than 600 jokes featuring Superman, Batman, Wonder Woman, Green Lantern, the Flash—and other popular DC super heroes and super villains are sure to entertain young fans. Illustrated with classic DC comic book art, this first-of-its kind treasury makes a great gift and a super-fun read.
About the Author
Written by a team of hilarious people, including librarian, author, and DC mega-fan Michael Robin and comedy writer and playwright Noah Smith.