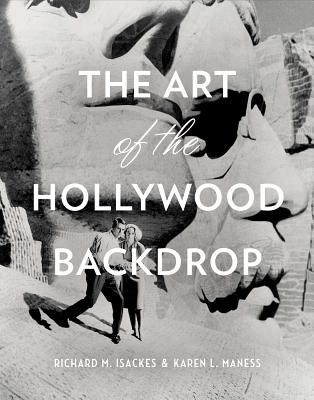 The Art of the Hollywood Backdrop
Hardcover

* Individual store prices may vary.
Description
The definitive behind-the-scenes history of one of Hollywood's most closely guarded cinematic secrets finally revealed—painted backdrops and the scenic artists who brought them to the big screen.

In almost every feature film of Hollywood's golden age, from The Wizard of Oz to North by Northwest to Cleopatra to The Sound of Music, painted backings have convinced moviegoers that what they are seeing—whether the fantastic roads of Oz, the presidents of Mount Rushmore, or ancient Egyptian kingdoms—is absolutely real. These backings are at once intended to transport the audience and yet remain unseen for what they really are. The Art of the Hollywood Backdrop reveals the hidden world and creators of these masterpieces, long-guarded as a special effects secret by the major studios such as MGM, Warner Brothers, Universal, Columbia, 20th Century Fox, and Paramount.

Despite the continued use of hand-painted backings in today's films, including the big-budget Interstellar and Lemony Snicket's A Series of Unfortunate Events among many others, digital technology is beginning to supplant the art form. In an effort to preserve the irreplaceable knowledge of scenic masters, Karen Maness and Richard Isackes, in collaboration with the Art Directors Guild, have compiled a definitive history of the craft, complete with interviews of the surviving artists. This is a rich undiscovered history—a history replete with competing art departments, dynastic scenic families, and origins stretching back to the films of Méliès, Edison, Sennett, Chaplin, and Fairbanks.

Filled cover to cover with over 300 images,The Art of the Hollywood Backdrop is beautifully packaged as a hardcover book with slipcase.

Praise For The Art of the Hollywood Backdrop…
"The best book written about one of our crafts . . . ever." —Perspective: The Journal of the Art Directors Guild

"To turn the pages of this book is to feel like you've entered a legendary treasure house filled with magnificent images, paintings that fooled the eye." —Los Angeles Times

"A welcome reminder of how the movies managed to summon their most magical worlds from pigments and brushstrokes." —New York magazine

"In The Art of the Hollywood Backdrop . . . the unsung artists who created some of cinema's most enduring images take a long-overdue bow." —The Wall Street Journal

"Pays homage to the trompe l'oeil that created some of film's most iconic settings." —The Hollywood Reporter

"Reveals a facet of moviemaking that even savvy film buffs may not know about . . . You will be amazed, as I was, at the number of familiar scenes from films as varied as The Wizard of Oz, North by Northwest, and Lemony Snicket's A Series of Unfortunate Events that make use of these canvases . . . This is truly an eye-opening book and a valuable contribution to our understanding of how movies are created."

—Leonard Maltin

"The fascinating scenic work documented so gorgeously here is vivid testimony to the critical role of the artist in the creation of expressive, immersive narrative environments throughout the history of cinema. We can begin to appreciate perhaps what we are now losing: the hand of the artist illuminated by the cinematographer's light and captured on camera at the moment of performance."

—Rick Heinrichs, Academy Award–winning production designer of Sleepy Hollow

"What a pleasure it is to see this book being published. Now, the filmgoer can see for themselves one of the great and beautiful mysteries of film creation. This book shows it all."

—Dean Tavoularis, Academy Award–winning production designer of The Godfather: Part II

"To see all my heroes in one book and look inside this enchanting world is extraordinary. A truly inspiring book."

—Jess Gonchor, Production Designer of True Grit, No Country for Old Men, and Hail, Caesar!

"What an astonishing achievement this spectacular volume is! It's an amazing treat that we, who love the movies, are being presented with. Massive congratulations are due to all who contributed to making this 'dream-work' such a totally absorbing reality."

—Tony Walton, Academy Award–winning production designer of All That Jazz
Regan Arts., 9781941393086, 352pp.
Publication Date: November 1, 2016
About the Author
Karen Maness is the principal instructor of scenic art and figurative painting for the Department of Theatre and Dance at the University of Texas at Austin, and Scenic Art Supervisor at Texas Performing Arts. Maness studied studio art and set design at Whittier College in Los Angeles, California and continued her studies at Cobalt Studios in White Lake, New York, and The Florence Academy of Art in Italy. Her career as a scenic artist and practicing studio artist spans more than twenty-five years, with works held in private collections worldwide.

Richard Isackes is currently a professor of theater at the University of Texas at Austin. Isackes has designed extensively in both regional theater and opera and has twice been the recipient of the Boston Circle Critics award for best scene design. Formerly a member of the faculties of Bucknell University, Boston University and the University of Illinois, he currently holds the Joanne Sharpe Crosby Chair in Design and Technology at the University of Texas where he served as Chair of the Department of Theatre and Dance from 1998 to 2006.