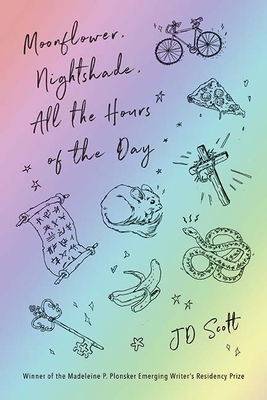 Moonflower, Nightshade, All the Hours of the Day
Stories
Paperback

* Individual store prices may vary.
Description
In this debut collection of short stories by the winner of the Madeleine P. Plonsker Emerging Writer's Residency Prize, the sly fabulism of JD Scott's fiction casts its own peculiar spell upon the reader as it outlines a world unsettlingly similar to our own. Scott troubles the line between what is literary and genre, fairy tale and parable.
 
In one story, a perfumer keeps his boyfriend close at hand by dosing him with precise measures of poison. In another, a comical domestic drama hinges upon the life and death of an ancient chinchilla. Scott pushes liminality with magical scrolls, a drowned twin returning from the sea, and a witty retelling of the Crucifixion where a gym bunny chops down a tree in the Garden of Eden—only to transform the wood into a cross for himself.
 
The collection ends with an epic novella in which a heroic teenager comes of age inside an otherworldly shopping mall that spans the entire globe. Visceral, dreamlike, and full of dazzling prose: Moonflower, Nightshade, All the Hours of the Day announces the arrival of a distinctive talent who challenges us to see our own endless possibilities—to find luminescence inside and beyond the shadows.

 
Praise For Moonflower, Nightshade, All the Hours of the Day: Stories…
". . . a dazzling collection of stories—part dystopian, part fabulist, and wholly immersive . . . Like stepping through a looking glass, the stories of Moonflower, Nightshade, All the Hours of the Day skirt the edges of reality and shimmer with enchanting, otherworldly light." —Foreword Reviews (starred review)

"This strikingly original collection is at once magical and achingly real, distinctive in its formal invention and its sly, inviting wit. Scott's characters grapple with loss and desolation, but this is also a book about possibility and transformation. Moonflower, Nightshade, All the Hours of the Day marks the arrival of a major new talent." —Dawn Raffel, author of The Strange Case of Dr. Couney
 

 

"I didn't read JD Scott's vivid and visceral collection Moonflower, Nightshade, All the Hours of the Day as much as I absorbed it. Scales sloughed from my eyes. These richly saturated fictions flood the senses endlessly and everywhere. Look, there are new blues! See, there is a spectrum of ultra and infra delights! Not since Edmund White's Nocturnes for the King of Naples have I felt so steeped, immersed, swaddled in liquid syntactical fictive maps, scaled to disorientated worlds of words more detailed than the things they represent. This light is all osmotic. These fictions, I see, make me see to see." —Michael Martone, author of Brooding and The Moon Over Wapakoneta

"The stories contained in Moonflower, Nightshade, All the Hours of the Day are true bursts of light. JD Scott has curated a collection that takes all the wild magic of youth and love and transformed it into tender aches, beautiful little pains. The stories sit lodged in your chest and refuse to leave. Compulsively readable and immaculately written, Scott has honed their incredible craft into a book that readers will return to again and again." —Kristen Arnett, author of Mostly Dead Things
Lake Forest College Press, 9781941423059, 236pp.
Publication Date: April 3, 2020
About the Author
JD SCOTT is author of the poetry collection Mask for Mask. Scott's writing has appeared in Best Experimental Writing, Best New Poets, Denver Quarterly, Prairie Schooner, Indiana Review, and elsewhere. Moonflower, Nightshade, All the Hours of the Day is Scott's debut story collection.
or
Not Currently Available for Direct Purchase