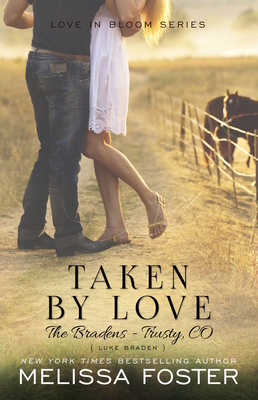 Taken by Love (the Bradens at Trusty) (Paperback)
Luke Braden (Love in Bloom: The Bradens #7)
World Literary Press, 9781941480007, 332pp.
Publication Date: May 20, 2014
* Individual store prices may vary.
Description
**TAKEN BY LOVE is a USA TODAY BESTSELLER** TAKEN BY LOVE is the first of six Braden cousins, and the newest additions to the BRADEN series by New York Times & USA Today bestselling and award-winning author Melissa Foster. In TAKEN BY LOVE... Daisy Honey fled Trusty, Colorado, after years of battling rumors sparked by her gorgeous looks and lust-inducing name. Now a physician on the brink of a promising career, she reluctantly returns home when her father is injured in a farming accident. Daisy expects the small-town girls who hurt her in the past to take cheap shots again--but she's completely unprepared for a run-in with tall, dark, and wickedly sexy Luke Braden, the only man who has ever stood up for her--and the man she's never forgotten. Luke Braden is handsome, wealthy, and the best damn gypsy horse breeder in the Midwest. After a restless youth, he's finally ready to settle down--only connecting with women is nothing like connecting with horses, and he's never met a woman worth the energy. After an arrest in a neighboring town, Luke's past comes back to haunt him, and he realizes that his inability to find love runs deeper than he ever imagined. A chance encounter sweeps Luke and Daisy into a world of passion. For the first time ever, Luke feels a connection, but Daisy's life in Trusty is anything but permanent, and Luke can't manage a future until he puts his past to rest.TAKEN BY LOVE is part of the Love in Bloom series. While TAKEN BY LOVE can be read as a stand-alone novel, for even more reading enjoyment you may want to read the entire Love in Bloom series in series order. READ THE FULL LOVE IN BLOOM SERIES: SNOW SISTERS: Sisters in Love, Sisters in Bloom, Sisters in White THE BRADENS (Weston, CO): Lovers at Heart, Destined for Love, Friendship on Fire, Sea of Love, Bursting with Love, Hearts at Play THE BRADENS (Trusty, CO): Taken by Love, Fated for Love, Romancing My Love, Flirting with Love, Dreaming of Love, Crashing into Love THE BRADENS (Peaceful Harbor, MD): Healed by Love (Nate), Surrender My Love
Coming Soon - River of Love THE REMINGTONS: Game of Love, Stroke of Love, Flames of Love, Slope of Love, Read, Write, Love
Coming Soon - Touched by Love SEASIDE SUMMERS: Seaside Dreams, Seaside Hearts, Seaside Sunsets, Seaside Secrets, Seaside Nights, Seaside Embrace
Coming Soon - Seaside Lovers THE RYDERS: Seized by Love
Coming Soon - Claimed by Love, Chased by Love.