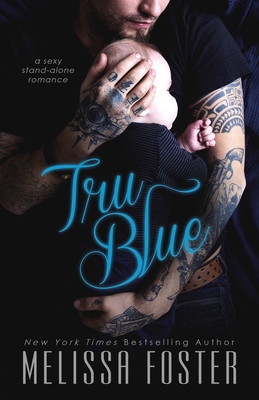 Tru Blue
Paperback

* Individual store prices may vary.
Description
Discover the magic of New York Times bestseller Melissa Foster's writing, and see why millions of readers have fallen in love with the Love in Bloom series.
**TRU BLUE is a USA TODAY BESTSELLER**
TRU BLUE is a sexy, dark stand-alone novel written in the same loving, raw, and emotional voice romance readers have come to love, and the deeply emotional literary prose women's fiction readers have come to expect, from New York Times & USA Today bestselling, award-winning author Melissa Foster.
He wore the skin of a killer, and bore the heart of a lover...
There's nothing Truman Gritt won't do to protect his family-Including spending years in jail for a crime he didn't commit. When he's finally released, the life he knew is turned upside down by his mother's overdose, and Truman steps in to raise the children she's left behind. Truman's hard, he's secretive, and he's trying to save a brother who's even more broken than he is. He's never needed help in his life, and when beautiful Gemma Wright tries to step in, he's less than accepting. But Gemma has a way of slithering into people's lives and eventually she pierces through his ironclad heart. When Truman's dark past collides with his future, his loyalties will be tested, and he'll be faced with his toughest decision yet.
READ THE FULL LOVE IN BLOOM SERIES:
SNOW SISTERS: Sisters in Love, Sisters in Bloom, Sisters in White
THE BRADENS (Weston, CO): Lovers at Heart, Reimagined, Destined for Love, Friendship on Fire, Sea of Love, Bursting with Love, Hearts at Play, Promise My Love, Our New Love, Story of Love, Daring Her Love, A Very Braden Christmas
THE BRADENS (Trusty, CO): Taken by Love, Fated for Love, Romancing My Love, Flirting with Love, Dreaming of Love, Crashing into Love, Love at Last
THE BRADENS (Peaceful Harbor, MD): Healed by Love, Surrender My Love, River of Love, Crushing on Love, Whisper of Love, Thrill of Love
THE BRADENS & MONTGOMERYS (Pleasant Hill - Oak Falls) Embracing Her Heart, Anything for Love, Trails of Love - Wild, Crazy Heart, Making You Mine, Searching for Love
THE REMINGTONS: Game of Love, Stroke of Love, Flames of Love, Slope of Love, Read, Write, Love, Touched by Love
SEASIDE SUMMERS: Seaside Dreams, Seaside Hearts, Seaside Sunsets, Seaside Secrets, Seaside Nights, Seaside Embrace, Seaside Lovers, Seaside Whispers
BAYSIDE SUMMERS: Bayside Desires, Bayside Passions, Bayside Heat, Bayside Escape, Coming Soon: Bayside Fantasies and Bayside Romance
THE RYDERS: Seized by Love, Claimed by Love, Chased by Love. Rescued by Love, Swept into Love
TRU BLUE & THE WHISKEYS: Tru Blue, Truly, Madly, Whiskey, Driving Whiskey Wild, Wicked Whiskey Love, Mad about Moon
HARBORSIDE NIGHTS: Catching Cassidy, Discovering Delilah, Tempting Tristan, Coming Soon: Chasing Charley, Breaking Brandon
REVIEWS:
"With her wonderful characters and resonating emotions, Melissa Foster is a must-read author " New York Times Bestseller Julie Kenner
"Melissa Foster is synonymous with sexy, swoony, heartfelt romance " New York Times Bestseller Lauren Blakely
"You can always rely on Melissa Foster to deliver a story that's fresh, emotional and entertaining. Make sure you have all night, because once you start you won't want to stop reading. Every book's a winner " NYT Bestselling Author Brenda Novak
World Literary Press, 9781941480595, 260pp.
Publication Date: November 9, 2016