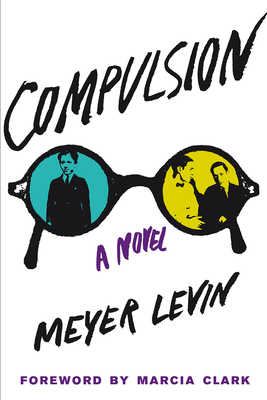 Compulsion (Paperback)
Fig Tree Books LLC, 9781941493021, 480pp.
Publication Date: April 14, 2015
Other Editions of This Title:
Compact Disc (11/5/2019)
MP3 CD (8/16/2016)
* Individual store prices may vary.
Description
Judd Steiner and Artie Straus have it all: wealth, intelligence, and the world at their feet as part of the elite, upper-crust Jewish community of 1920s Chicago. Artie is handsome, athletic, and popular, but he possesses a hidden, powerful sadistic streak and a desire to dominate. Judd is a weedy introvert, a genius who longs for a companion whom he can idolize and worship. Obsessed with Nietzsche's idea of the superhuman, both boys decide to prove that they are above the laws of man by arbitrarily picking and murdering a Jewish boy in their neighborhood. This new edition of Meyer Levin's classic literary thriller Compulsion reintroduces the fictionalized case of Leopold and Loeb - once considered the "crime of the century" - to a new generation. This incisive psychological portrait of two young murderers seized the imagination of an era and is generally recognized as paving the way for the first non-fiction novel. Compulsion forces us to ask what drives some further into darkness, and some to seek redemption. Heartbreaking as it is gripping, Compulsion is written with a tense and penetrating force that led the Los Angeles Times to call Levin, "the most significant Jewish writer of his times."

About the Author
Meyer Levin (1905 - 1981) was called by the Los Angeles Times "the most significant American Jewish writer of his times." Norman Mailer referred to him as "one of the best American writers working in the realistic tradition." Throughout his 60 years of professional work, Levin was a constant innovator, reinventing himself and stretching his literary style with remarkable versatility. When Levin died in 1981 he left behind a remarkable and diverse body of work that not only reflected the incredible life he led but chronicled the development of the entire Jewish consciousness during the 20th century. Marcia Clark began practicing law as a criminal defense attorney. She became a prosecutor in the L.A. District Attorney's Office in 1981, and spent ten years in the Special Trials Unit where she handled a number of high profile cases prior to the O.J. Simpson case, including the prosecution of stalker/murderer Robert Bardo, whose conviction for the murder of actress Rebecca Schaeffer resulted in legislation that offered victims better protection from stalkers as well as increased punishment for the offenders. She has published three novels which feature Los Angeles Special Trials prosecutor Rachel Knight - Guilt by Association, Guilt by Degrees, and Killer Ambition and is currently at work on her fourth novel. Gabriel Levin has published five collections of poetry, most recently Coming Forth By Day (Carcanet, 2014) and a collection of essays The Dune's Twisted Edge: Journeys in the Levant (The University of Chicago Press, 2013). He has as well published several collections of translation, including a selection of Yehuda Halevi's poetry, Poems from the Diwan (Anvil, 2002). He lives in Jerusalem.
Praise For Compulsion…
"Before Truman Capote's In Cold Blood, before Norman Mailer's The Executioner's Song, there was Meyer Levin's Compulsion, a docu-novel about the famous Leopold and Loeb murder case in the 1920s. If only for its rightful place in American literary history, Compulsion is worth reprinting. But it is also valuable because of its author's novelistic gifts—a convincing portrait of two brilliant psychopaths, a narrative capacity for a spellbinding tale, an authentic depiction of the 1920s Chicago moral and political landscape. Compulsion is a credible portrait of an era, and an early example of an infamous crime turned into compelling fiction."—Alan Lelchuk, author of American Mischief

"Though Truman Capote claimed to have invented a new literary genre with In Cold Blood—a form he called the 'nonfiction novel'—that distinction truly belongs to Meyer Levin. For nearly a century now, the Leopold and Loeb case has maintained a firm hold on the popular imagination, generating histories, movies, stage dramas, even musicals and comic books. Of this seemingly endless stream of retellings, Levin's lightly fictionalized masterpiece—so true to reality that Leopold himself famously sued the author—remains the most gripping, psychologically penetrating, and purely readable account of one of America's most sensational crimes." —Harold Schechter, author of The Mad Sculptor: The Maniac, The Model, and the Murder that Shook the Nation