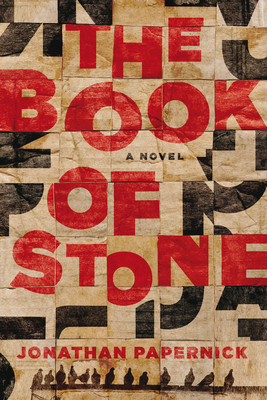 The Book of Stone
Paperback

* Individual store prices may vary.
Other Editions of This Title:
MP3 CD (6/23/2015)
Compact Disc (6/23/2015)
Description
The Book of Stone examines the evolution of the terrorist mentality and the complexities of religious extremism, as well as how easily a vulnerable mind can be exploited for dark purposes. Matthew Stone has inherited a troubling legacy: a gangster grandfather and a distant father--who is also a disgraced judge. After his father's death, Matthew is a young man alone. He turns to his father's beloved books for comfort, perceiving within them guidance that leads him to connect with a group of religious extremists. As Matthew immerses himself in this unfamiliar world, the FBI seeks his assistance to foil the group's violent plot. Caught between these powerful forces, haunted by losses past and present, and desperate for redemption, Matthew charts a course of increasing peril--for himself and for everyone around him. Lyrical and incendiary, The Book of Stone is a masterfully crafted novel that reveals the ambiguities of "good" and "evil".

Praise For The Book of Stone…
"The Book of Stone is going to have everyone on the planet talking. Blistering smart, provocative and passionate, Papernick's astounding novel layers a complex father and son story onto the Jewish/Arab conflict, where fierce loyalties and stunning betrayals are about to detonate. Nothing is as it seems in this divided American world: the political becomes personal, religious faith overrides family, and fear can shatter the possibility of love. An astonishing achievement that's sure to ignite dialogue -- and as the best works of art do, push us to see the world differently." — Caroline Leavitt, New York Times bestselling author of Is This Tomorrow and Pictures of You

"Devastating, gripping and beautiful. The Book of Stone is about fathers and sons, how the past haunts the present, how trauma transcends generations and how wrong we can be about those who made us who we are. What will haunt you forever is how Papernick brings you right up to the border of justice and terror, and then makes that border disappear. Open this book carefully. You will close it changed." — Dara Horn, award-winning author of The World to Come and A Guide for the Perplexed

"Equal parts thriller and literary epic—a smart, haunting novel that entertains as it apprises. Papernick writes with impressive breadth, in turns crafting the minute details of a psychological profile and dissecting the vast socio-political complexities of religious zealotry pushed to its outer limits. The Book of Stone is an important read for our historical moment." — Sara Novic, author of Girl at War

"Jonathan Papernick's THE BOOK OF STONE is a psychological thriller with a complex soul. In the tradition of writers like Robert Stone and Ian McEwan, Papernick describes the quest to save oneself by redeeming history, and the perilous consequences that arise from confusing the two tasks. It's a harrowing, distinguished book." — Steve Stern, author of THE WEDDING JESTER and THE ANGEL OF FORGETFULNESS.

"THE BOOK OF STONE is many amazing things: a searingly-told father-son story in which profound estrangement is tenuously and dangerously bridged through the intermediaries of books and ideas; a modern family tale that is itself embedded in the never-ending, violent tribal drama of the historical conflict between Jews and Arabs. In all its layered psychological intensity, Jon Papernick's new novel is riveting."—Aryeh Lev Stollman, author of THE ILLUMINATED SOUL and THE FAR EUPHRATES

Praise for Jonathan Papernick's There is No Other and The Ascent of Eli Israel:

"There is a muscular certainty to the best of Papernick's stories that is altogether harrowing. They offer concise, explosive portraits of brittle tempers, the furies of citizens whose sentiments have been perverted in the pressure cooker of the one of the world's most dangerously impassioned regions. . . . Papernick's penetrating, clear-sighted stories ring true. — Noah Richler, The New York Times Book Review

"Papernick deepens our understanding of humanity and leaves us just a little bit smarter. " — Michael Wex, bestselling author of Born to Kvetch

"Papernick's fiction takes no prisoners...[his] stories grab our attention and keep us glued to the page...sometimes darkness falls, sometimes transcendence lifts, but in each case, tenderness always lurks just around the edges...unforgettable." — Sanford Pinsker, Hadassah Magazine

"His writing is energetic and intense...and fills his pages with action and emotional complexity[.]" — Sandee Brawarsky, The Jewish Week

"Papernick writes about Jewish tradition from the inside with an insider's comprehension of its quirks and contradictions in a prose style tinged with dark humor and irreverence. Comparisons have aptly been made with Nathan Englander and Bernard Malamud...Papernick is nothing if not a literary iconoclast keen on exploding our idols, ideals and conceptions about ourselves and others." — Canadian Jewish News
Fig Tree Books LLC, 9781941493045, 389pp.
Publication Date: May 12, 2015
About the Author
Dara Horn calls Papernick "an utterly original writer," and The New York Times writes, "There is a muscular certainty to the best of Papernick's stories." Papernick has taught fiction writing at Pratt Institute, Brandeis University, Bar Ilan University, and GrubStreet. A Toronto native, Papernick lives with his wife and two sons outside Boston, where he is a Senior Writer-in-Residence at a Boston-area college.