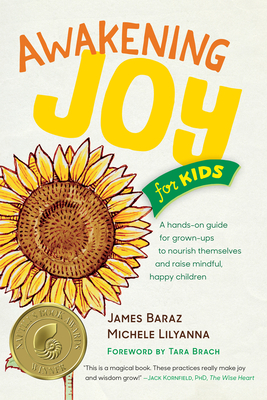 Awakening Joy for Kids
A Hands-On Guide for Grown-Ups to Nourish Themselves and Raise Mindful, Happy Children
Paperback

* Individual store prices may vary.
Description
Awarded the 2016 Nautilus Gold Medal for Parenting and Family!

Spirit Rock founder, author, and teacher James Baraz's Awakening Joy offers his large and devoted readership a program to gain contentment and happiness by cultivating the seeds of joy within. Here he joins with Michele Lilyanna, a classroom teacher for 25 years, to offer caregivers and children ways to find joy in each day together.

This unique offering nourishes both adults and kids. James shares the practices for the adults—parents, caregivers, and teachers. Michele offers her own experiences as a parent and as a teacher, showing how the themes work with kids, followed by the tried and true lessons that she's used herself in the classroom and at home.

Packed with practices and activities that James and Michele have gathered over their many years of working with thousands of adults and children in retreats, workshops, and the classroom, Awakening Joy for Kids is imbued with compassion and delight. Part of Parallax Press' growing curriculum for parents and educators designed to cultivate joy and mindfulness in children.
Praise For Awakening Joy for Kids: A Hands-On Guide for Grown-Ups to Nourish Themselves and Raise Mindful, Happy Children…
"Awakening Joy for Kids is an extraordinary gift for parents, teachers, and most especially for our children. James Baraz and Michele Lilyanna offer simple yet powerful teachings, which have the potential to transform our individual and collective lives. I highly recommend this book!"
—Shauna Shapiro PhD, Mindful Discipline and The Art and Science of Mindfulness

"This is a magical book. Like the Nutra-Grow we put on our plants to help them bloom, these practices really make Joy and Wisdom grow! What a wonderful nurturance for our children. "
—Jack Kornfield, PhD, The Wise Heart
 
"This beautiful book goes straight to the heart, so rich with simple, powerful, practical things that children and adults can do to grow real and lasting resilience, compassion, and joy inside themselves."—Rick Hanson, PhD, Hardwiring Happiness and Just One Thing
 
"Awakening Joy For Kids is a treasure trove filled with creative, wise, accessible, and engaging practices, that'll nourish you and the children in your life. Don't wait; start practicing now!"
—Dawn Scott, Family Program Coordinator, Spirit Rock Meditation Center, Woodacre, California

"Chock full of easy and practical suggestions for finding joy — and peace! — as a teacher or parent, for helping children develop the skills they need for their own happiness. James Baraz is one the most important and inspirational happiness teachers alive today; if you have children or work with them, don't miss this terrific collaboration with master teacher Michele Lilyanna."— Christine Carter, PhD, Raising Happiness and The Sweet Spot, Senior Fellow, Greater Good Science Center
 
"The lessons throughout Awakening Joy for Kids are timely as well as timeless. Knowing what brings true happiness, ease, and well-being is an important wisdom to be passed on to next generations. Awakening Joy for Kids has gifted parents and educators with a fun and accessible guide to teach our kids the social and emotion skills they need to live fuller, well-rounded lives. "—Kate Munding, Founder of Heart-Mind Education, creating mindfulness training for teachers
 
"Awakening Joy for Kids is the new 'go-to' resource to help parents and teachers help children manage fears and worries and develop a deep inner wellspring of well-being. These lessons are fun, playful, practical, and easily adaptable for home and school. Well-organized and beautifully illustrated, Awakening Joy for Kids is 'kid-tested,' reader friendly, and life-changing. Highly recommended."—Linda Graham, MFT, Bouncing Back
 
 "At once inspiring, practical, doable, and fun, Awakening Joy for Kids is for children and adults alike, making quality-of-life the highest priority. This book supports the development of the whole human being and is a much-needed addition to our curriculum for educating children in this world."—Robert Gonzales, PhD, Co-Founder of the Nonviolent Training Institute, Past President of the Board of Directors of the Center for Nonviolent Communication
 
"Weaving together the discoveries of contemporary science with the real needs of children in classrooms and beyond, the authors have gifted adults everywhere a treasured resource. Central to the message is that all human beings have light, and we adults have a profoundly important role in ensuring we nurture an awakening of joy so that each child can grow and be all they were intended to be. I love this book!"—Dr. Vanessa Lapointe, Discipline Without Damage
 
"Fresh.  Friendly.  Fantastic. Finally. In this era of testing and achievement, Michele and James give delightfully practical form and direction to educators, parents, and all of us humans who care about equipping our children (and ourselves) to lead joyful, resilient lives.  Simple and profound, Awakening Joy for Kids is an inoculation against the maladies of fear and hopelessness that come when we lose track of our inherent playfulness, creativity, and wisdom.  An easy, accessible reference that I will generously recommend."—Ann McKnight, LMSW, ACSW, TEDx talk on Restorative Circles
Parallax Press, 9781941529287, 304pp.
Publication Date: August 9, 2016
About the Author
James Baraz has been a meditation teacher since 1978. In 2003 he created the Awakening Joy course, which he teaches at the Omega Institute, Esalen Institute, and other venues across the United States and abroad. He is co-founding Teacher of Spirit Rock Meditation Canter in Woodacre, California, and author, with Shoshana Alexander, of Awakening Joy, the book based on the course. Early in his life, James was an elementary school teacher in Astoria, Queen for 12 years. James lives in Berkeley, California with his wife, Jane. He has two sons and three grandchildren.

Michele Lilyanna has taught in the public education system for the past 25 years, although all of her principals have described her as "out of the box" and out of the building with her students! For most of that time her focus has been social and emotional learning. When Michele is not teaching parents, educators, or children, you will find her awakening joy on the Sunshine Coast of British Columbia with her partner Peter and her two sons.
or
Not Currently Available for Direct Purchase