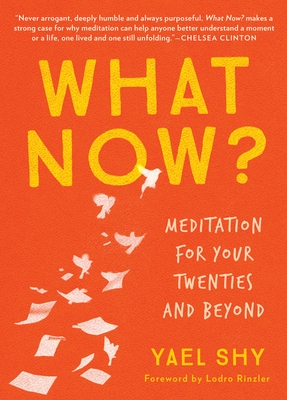 What Now?
Meditation for Your Twenties and Beyond
Paperback

* Individual store prices may vary.
Description
Early adulthood is filled with intense emotions and insecurity. What if you never fall in love? What if you can't find work you're passionate about? You miss home. You miss close friends. You're lost in the noise of how you think you should be living and worried about wasting what everyone says should be the best years of your life.

What Now? shares mindfulness practices to help twentysomethings learn to identify and accept these feelings and respond—not react—to painful and powerful stimuli without pushing them away or getting lost in them. This is not about fixing oneself or being "better." Readers are encouraged to embrace themselves exactly as they are. You are already completely whole, completely loveable, completely worthy. What Now?  shares practices that help us to wake up to this fact. 

This uniquely tumultuous developmental period is a time when many first live away from home and engage in all kinds of experimentation—with ideas, substances, relationships, and who we think we are and want to be in the world. Yael Shy shares her own story and offers basic meditation guides to beginning a practice. She explores the Buddhist framework for what causes suffering and explores ideas about interconnection and social justice as natural outgrowths of meditation practice.
Praise For What Now?: Meditation for Your Twenties and Beyond…
"Part of what makes What Now? such a special read is Yael's ability to take meditation out of the ephemeral and make it real-life relevant. Yael does this through her unflinching honesty in sharing her own anxieties, challenges, heartbreaks and triumphs. Never arrogant, deeply humble and always purposeful, What Now? makes a strong case for why meditation can help anyone better understand a moment or a life, one lived and one still unfolding. It's clear that meditation has helped Yael become whom she always was meant to be––and helped her write an absolutely beautiful book."—Chelsea Clinton, Vice Chair of the Clinton Foundation, She Persisted and It's Your World

"Shy, senior director of the NYU Global Spiritual Life Center, draws from her own experiences to offer meditation advice to 20-somethings in this light, approachable guide. Shy covers familiar ground: teaching the three Buddhist marks of impermanence (impermanence, suffering, no-self), expanding mindfulness practices to everyday life, and 'agreeing to let my story of myself as unlovable die, and seeing what happens.' What sets Shy's offering apart is her candor in revealing her own vulnerability as a young person, including romantic break-ups and peer pressure during college, her struggle to find her spiritual place after being raised Jewish, and a revealing section on entering the job market. When writing about heartbreak or loneliness, she describes a three-part sequence of reactions—being overwhelmed, turning a mindful eye to her body-mind, and developing a healthy relationship to her emotions—that serves as a model for practicing meditation. For Shy, meditation is not just not learning how to take deep breaths, but a process of 'becoming familiar with life' and 'coming home to ourselves' by 'growing ever more expansive and loving toward all of the darkness within.' This easily digested, insightful book will be welcomed by her target audience."—Publishers Weekly

"Shy is well qualified to recommend the practice.... What Now? offers her steady, compassionate advice on tech-life balance, mindfulness in relationships, social justice, mental health, and more." —Mindful

"Yael Shy's new book offers meditation as more than the self-help method du jour, but as a way to choose your next steps in life, meet strong emotions as a source of power, and navigate beyond harsh self-judgment to become who you long to be."—Susan Piver, Start Here Now
 
"What Now? is a wonderful book, straightforward, personal, and engaging. Its grasp of basic Buddhist teachings and meditation techniques is impressive, and it extends them into areas of interest for young people, all the way up to activism, relationships, and even sex. I can't think of a better guide for young people in search of honest spirituality than Yael Shy."—Norman Fischer, former Co-Abbot of the San Francisco Zen Center and Founder of The Everyday Zen Foundation, What Is Zen? and Training in Compassion

"The key question is how do you have an integrated life? In this book, Yael brings us through her own struggles and joys of living a life of attention, compassion and awareness. It is refreshing to read and a joyful offering to the world."—Sensei Koshin Paley Ellison, Co-Founder of the New York Zen Center for Contemplative Care, Editor of Awake at the Bedside
Parallax Press, 9781941529829, 224pp.
Publication Date: November 7, 2017
About the Author
Yael Shy is the Founder and Director of MindfulNYU (the largest campus-wide meditation initiative in the country) and the Senior Director of the Center for Global Spiritual Life at New York University. She leads meditation workshops, classes, and retreats around the country and the world, including at NYU Abu Dhabi, NYU Berlin, NYU Tel Aviv, Mindful Life, Princeton University, and elsewhere and teaches weekly at MindfulNYU and at the meditation studio MNDFL in Greenwich Village. 

In 2010, Shy was named one of the "36 under 36" change-makers transforming the Jewish world by Jewish Week newspaper. She has practiced meditation regularly in Jewish, Zen Buddhist, and secular contexts. Yael has been published in the Harvard Business Review, the Huffington Post, the Journal of Interreligious Studies, the NYU Review of Law and Social Change, among other publications. Yael Shy lives in Brooklyn with her husband and son.
or
Not Currently Available for Direct Purchase