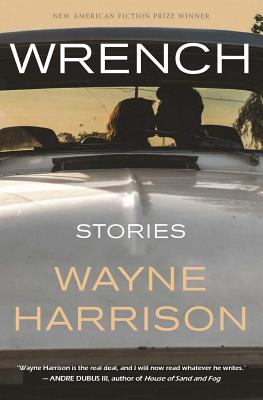 Wrench and Other Stories
Paperback

* Individual store prices may vary.
Description
"Wrench proves that Wayne Harrison knows what it takes to keep cars and stories running smoothly. He also understands the working of the human heart, and the result is a collection filled with stories that are authentic and compelling." -- LARRY WATSON, New American Fiction Prize Final Judge and author of AS GOOD AS GONE and LET HIM GO
"Wayne Harrison is an extremely gifted writer." -- JILL McCORKLE, author of LIFE AFTER LIFE
"Like Richard Russo, Philipp Meyer and Mark Slouka, Harrison understands the rusting body of American labor. Whether or not you love cars, Harrison speaks that special dialect so fluently that anyone with a heart can hear it." -- THE WASHINGTON POST
"Not since I read the stories of Breece D'J Pancake nearly thirty years ago have I felt so strongly about the debut of a writer of short fiction as I do Wayne Harrison. Among his many unforgettable characters are single mothers, young mechanics, ex-cons, recovering addicts and alcoholics, correctional officers, and a widower trying to do all he can for his toddler son. These stories crackle with a hard-earned and earthy specificity, one that suffuses Harrison's world with a light so authentic the reader cannot help but be transformed. But what I admire most about this superb collection is its profound humanity, its author's non-judgmental, compassionate, and unflinching gaze. Wayne Harrison is the real deal, and I will now read whatever he writes." -- ANDRE DUBUS III, author of DIRTY LOVE and HOUSE OF SAND AND FOG
"Like Carver, Harrison has a gift for evoking working-class lives in all their disorientation, threat, and quietness. And like the later Carver, his focus is on generosity, on moments when lives intersect and expand. Tragedy here isn't meanness but can be the ache of wanting to help someone and having to watch them destroy themselves anyway. These stories are elegant and powerful and ultimately about our resilience." -- DAVID VANN, author of GOAT MOUNTAIN and AQUARIUM
New American Press, 9781941561096, 184pp.
Publication Date: July 15, 2017