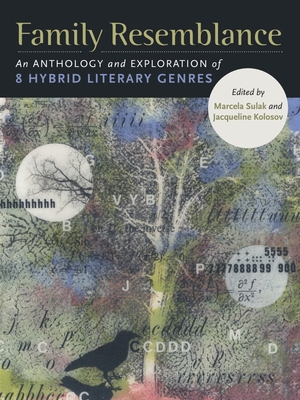 Family Resemblance (Paperback)
An Anthology and Exploration of 8 Hybrid Literary Genres
Rose Metal Press, 9781941628027, 464pp.
Publication Date: November 4, 2015
* Individual store prices may vary.
Description
Literary Nonfiction. Hybrid Genre. Poetry. Fiction. Art. Cultural Studies. When we talk about hybrid literary genres, what do we mean? Unprecedented in both its scope and approach, FAMILY RESEMBLANCE is the first anthology to explore the answer to that question in depth, providing craft essays and examples of hybrid forms by 43 distinguished authors. In this study of eight hybrid genres including lyric essay, epistolary, poetic memoir, prose poetry, performative, short-form nonfiction, flash fiction, and pictures made of words the family tree of hybridity takes delightful shape, showcasing how cross-genre works blend features from multiple literary parents to create new entities, forms that feel more urgent than ever in today's increasingly heterogeneous landscape. Introductions and an afterword discuss the importance and current popularity of hybridity in literature and culture and offer methods for teaching hybrid works. Intended for both scholarly and general readers, this seminal collection sparkles with inventiveness and creative zeal an essential guidebook to a developing field.

Contributors: Kazim Ali Susanne Paola Antonetta Andrea Baker Jennifer Bartlett Mira Bartok Jenny Boully Julie Carr Katie Cortese Nick Flynn Sarah Gorham Arielle Greenberg Carol Guess Terrance Hayes Robin Hemley Takashi Hiraide Tung-Hui Hu Mark Jarman A. Van Jordan Etgar Keret Joy Ladin Miriam Libicki Bret Lott Stan Mack Sabrina Orah Mark Brenda Miller Ander Monson Maggie Nelson Amy Newman Gregory Orr Julio Ortega Jena Osman Kathleen Ossip Pamela Painter Craig Santos Perez Khadijah Queen David Shields Mary Szybist Sarah Vap Patricia Vigderman Julie Marie Wade Diane Wakoski Joe Wenderoth Rachel Zucker.