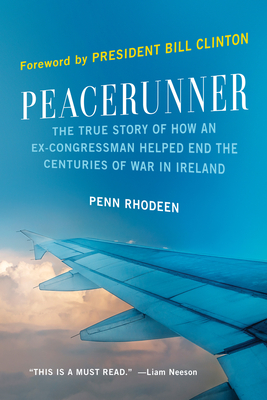 Peacerunner
The True Story of How an Ex-Congressman Helped End the Centuries of War in Ireland
Hardcover

* Individual store prices may vary.
Other Editions of This Title:
Digital Audiobook (2/15/2016)
Compact Disc (2/16/2016)
MP3 CD (2/16/2016)
Compact Disc (2/16/2016)
Description
On the 20th anniversary of the Good Friday Agreement, discover the true story of the man behind the scenes who made peace possible.

 

Peacerunner is the must-read account of how ex-congressman Bruce Morrison rose from crushing defeat to become a crucial figure in the historic Irish Peace Process that ended centuries of warfare.

The world celebrated the end of the fighting in Ireland, but just a handful know the full story of former congressman Bruce Morrison and how critical he was in bringing peace—and none can bring it to life better than author Penn Rhodeen.

In Peacerunner, Rhodeen takes us on the journey of Morrison, who worked with Irish Americans to help elect Bill Clinton as the best hope for a new American policy on the ancient conflict. He then devised the political strategy that helped Clinton make that policy a reality. Despite having no official position, Morrison traveled tirelessly to meet with anyone—including those seen as terrorists—who could help end the fighting. In Northern Ireland, he showed that the US could be the honest broker for both sides—and blazed the trail on which Clinton and George Mitchell helped political leaders forge the 1998 Good Friday Agreement and a new beginning for a suffering land.

This fast-paced and insightful narrative brimming with unforgettable characters—presidents and prime ministers, politicians of every stripe, activists and guerrilla fighters—reaches far beyond Ireland's bloody history to show that no conflict should be seen as too intractable to solve.

Peacerunner isn't just for those curious about how peace came to Northern Ireland—it's a story for anyone eager to know how the world can actually get better.
Praise For Peacerunner: The True Story of How an Ex-Congressman Helped End the Centuries of War in Ireland…
"This gripping and wonderful story is personal for me. I was born and raised in Northern Ireland and as I started my professional acting career in Belfast, the violence of the Troubles was raging. Bruce Morrison and the other heroes (unsung to my mind) of this terrific book accomplished the seemingly impossible and ultimately miraculous! The world needs more stories like this and more men like this. This is a must-read."
—Liam Neeson

"Peacerunner is a riveting account of the nonviolent tactics used to bring peace to Northern Ireland. Bruce Morrison is a true humanitarian devoted to reconciliation. His commitment to justice and the highest use of political service is an inspiration to us all."
—John Lewis, U.S. Representative

"This important and wonderfully human story revolves around one extraordinary American's determination to help end an ancient bloody conflict that people thought would never stop. . . . Penn Rhodeen's fast-paced account is a joy, like a novel you'd devour for pure pleasure. . . . Fascinating and inspirational."
—Professor J. J. Lee, director of the Glucksman Ireland House, New York University

"With clarity and insight, Penn Rhodeen's Peacerunner illuminates Bruce Morrison's largely unsung role on the arduous path to peace in Northern Ireland. . . . How and why peace broke out in Northern Ireland, an important story most Americans don't understand, is elucidated cogently and gracefully in Rhodeen's Peacerunner. Terrific work."
—Katharine Weber, author, visiting professor of creative writing, Kenyon College, and editor at large, Kenyon Review

"This is a great and important story, thrilling and beautifully written, about how the world gets better."
—Rebecca Moore, director of Google Earth
BenBella Books, 9781941631713, 350pp.
Publication Date: February 16, 2016
About the Author
Penn Rhodeen is a practicing lawyer in New Haven with a long-time interest in how the law treats children. He is a lecturer at the Yale Child Study Center and was counsel to the New Haven Police Department; he has been a newspaper reporter and a school teacher. Since high school, he has been involved in political campaigns ranging from local to presidential. He heard Martin Luther King, Jr., speak of his dream during the March on Washington, watched the Kennedy funeral procession from the North Lawn of the White House, and went to Woodstock. Penn lives in New Haven, CT, and Brooklyn, NY. Peacerunner is his first book; he's already working on the next one.
or
Not Currently Available for Direct Purchase