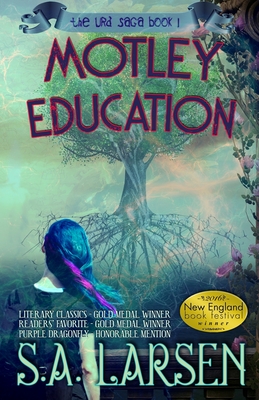 Motley Education
Paperback

* Individual store prices may vary.
Description
Motley Junior High: School for the Psychically and Celestially Gifted
Terms of Enrollment
Signed: Ebony Charmed
Ebony should be excited about entering sixth grade to further develop her skills. And she would be. If only her lame abilities let her see more than three ghosts.
Struggling to live up to her gifted family, Ebony is horrified when she is branded a Seeker: someone who is neither Sensory nor Luminary. To top it off, her Deadly Creatures and Relics project - transforming a measly stick - seems destined for failure.
But there are doors to other worlds where creatures have been watching her. And when the truth emerges that her project is more than a stick, she knows she must act.
Along with her best friend Fleishman and his pet lizard, Ebony finds herself wedged between prophecies and quests. Oh, and saving the entire spirit world from annihilation.
Ebony is not ready to be a hero. But a dark presence has already stolen more than one local kid. And this time, her failure is not an option.
Praise For Motley Education…
"A deftly crafted and consistently entertaining read from cover to cover! Indeed, Motley Education is certain to be an enduringly popular addition to elementary school and community library collections."
Midwest Book Reviews – Children's Bookwatch May 2017

"A wonderful world full of dynamic characters, ever increasing intrigue, and imaginative worlds where amazing things happen! Motley Education is the perfect middle grade fantasy book to capture your attention and engage your imagination as you experience Norse mythology with Ebony and Fleishman. Quite engaging, which is perfect for the targeted age group, (and older readers as well!). I can't wait to see what comes next. " Readers' Favorite Reviews

"Full of thrilling twists and an intense battle between good and evil, this fast-paced tale, replete with magical beasts and lovable characters is a must read for young fans of paranormal fiction." Literary Classics Reviews

"My ten-year-old son read this book and LOVED it! He couldn't put it down! As a mother of boys, I'm always looking for good books that they love. This one is a winner!" Kristin Smith, Amazon Bestselling Author of the Catalyst Series

"A great middle grade full of adventure. Fingers crossed for more!" Casey Lyall, Author of the Howard Wallace Series

"This middle grade fantasy is a perfect fall read! MOTLEY EDUCATION features a great friendship, wonderful world building, mythology and page turning adventure - I highly recommend it!" Erin Cashman, Award-Winning Author of The Exceptionals

"This book is creepy, thrilling fun!" Wendy MacKnight, Author of It's A Mystery, Pig Face!

"S.A. Larsen has created interesting characters, some good, some bad, which is as it should be, that are typical kids, except for their special powers. The author describes the scenes so vividly, it was almost like I was there. MOTLEY EDUCATION would make a nice addition to school classrooms and libraries (where students might wish they attended such a school as Motley Jr. High), as well as public libraries and your own. Recommended." BJ Reviews

"I like a good mystery with a paranormal twist and this book does not disappoint! The characters are well-developed, the story is clever, and there are just enough surprises to make you gasp with delight. Middle grade readers looking for a fresh dose of magic will love this book!" Lisa Schmid, Author of Ollie Oxley and the Ghost

"Author S.A. Larsen punctuates the tale with humor and heart, creating a fantasy tale sure to entertain middle grade readers." Cynthia Reeg, Author of From the Grave Series

"What an adventure full of humor, heart and horror! … incredibly imaginative and inventive. Kids in upper elementary will love this!" Shari L. Schwarz, Author of Treasure at Lure Lake

"You spend much of the book biting your lip wondering who is good and who is bad. The ending is satisfying and sets up nicely for a series. Recommended for readers who like fast-paced adventure, mythology, or magic." Kai Strand, Author of King of Bad and The Weaver Tales

Ellysian Press, 9781941637647, 284pp.
Publication Date: September 10, 2019
About the Author
S.A. Larsen is a children's writer, childhood apraxia of speech advocate, and major ice hockey fan, who has watched more hockey games than she could ever count. Her favorite stories open secret passageways and hidden worlds to inspire and challenge the heart. She's also the author of the award-winning young adult fantasy romance Marked Beauty (Ellysian Press 2017). She lives in the land of lobsters and snowy winters with her husband and four children, where she's writing Ebony and Fleishman's next adventure.

Visit her cyber home at www.salarsenbooks.com to become part of her Motley Mulisha, signup for her occasional newsletter, and leave her a friendly note. She tweets from @SA_Larsen and does most of her spookiness over at www.spookymiddlegrade.com, brewing up all sorts of creepy ideas with a group of #SpookyMG authors. Stop by for a visit . . . if you dare.