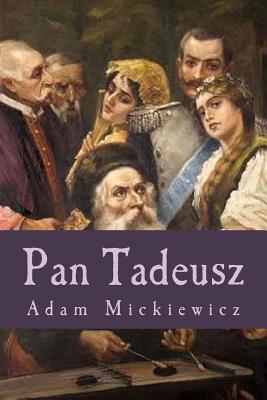 Pan Tadeusz (Paperback)
Dale Street Books, 9781941656280, 316pp.
Publication Date: October 7, 2015
Other Editions of This Title:
Paperback (12/15/1962)
Paperback, Polish (1/20/2018)
Paperback (4/30/2019)
Paperback (4/26/2011)
Paperback, Polish (9/29/2013)
Hardcover (8/22/2015)
Hardcover (4/3/2018)
Paperback (9/25/2018)
Paperback (1/1/1992)
* Individual store prices may vary.
Description
PAN TADEUSZ tells the story of two feuding families and the young lovers caught in the middle. Adding to the intrigue, Napoleon is camped in Warsaw, preparing to attack the occupying Russian forces. Woven into the historic tapestry are memorable characters such as the sultry coquette, virtuous maiden, besotted young officer, corrupt Russian soldiers, fearless Polish swordsmen, wise old men and even a mysterious monk, who prays piously even as he shoots with deadly aim. Adam Mickiewicz (1798 - 1855) wrote "Pan Tadeusz" while exiled in France. His homeland was occupied by Russia, where he would not have had the freedom to write this ode to Polish history and heritage. His great work remains today required reading in Polish schools. This English version was translated by George Rapall Noyes in 1917. He wrote it in prose rather than the original poem structure, but it retains all the grand sweep of historical detail, rich cultural references and romantic passions of a time when Napoleon coveted Russia and Poles desired their freedom.