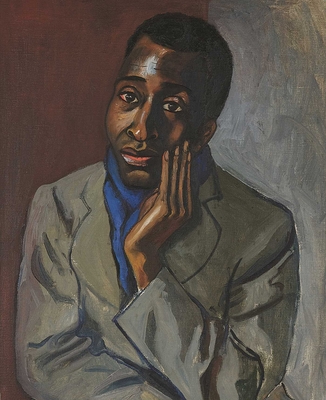 Alice Neel
Uptown
Hardcover

* Individual store prices may vary.
Description
Known for her portraits of family, friends, writers, poets, artists, students, singers, salesmen, activists, and more, Alice Neel created forthright, intimate, and, at times, humorous paintings that quietly engaged with political and social issues.

In Alice Neel, Uptown, writer and curator Hilton Als brings together a body of paintings and works on paper of African-Americans, Latinos, Asians, and other people of color for the first time. Highlighting the innate diversity of Neel's approach, the selection looks at those whose portraits are often left out of the art-historical canon and how this extraordinary painter captured them; "what fascinated her was the breadth of humanity that she encountered," Als writes.

The publication, which opens with a foreword by Jeremy Lewison, advisor to The Estate of Alice Neel, explores Neel's interest in the diversity of uptown New York and the variety of people amongst whom she lived. This group of portraits includes well-known figures such as playwright, actress, and author Alice Childress; the sociologist Horace R. Cayton, Jr.; the community activist Mercedes Arroyo; and the widely published academic Harold Cruse; alongside more anonymous individuals of a nurse, a ballet dancer, a taxi driver, a businessman, and a local kid who ran errands for Neel.

In short and illuminating texts on specific works written in his characteristic narrative style, Als writes about the history of each sitter and offers insights into Neel and her work, while adding his own perspective. A contemporary and personal approach to the artist's oeuvre, Als's project is "an attempt to honor not only what Neel saw, but the generosity of her seeing."

This catalogue is published on the occasion of the 2017 exhibitions of Neel's paintings and drawings at David Zwirner, New York, and Victoria Miro, London.
Praise For Alice Neel: Uptown…
"Alice Neel's incisive, personal portraits fill the pages of Uptown, by The New Yorker's Hilton Als."
— Staff

"It's a fully human depiction, and it doesn't use the black or brown body to advance what Als calls an 'ideological cause.' Benjamin as rendered by Neel is simply a black child, being. How powerful is that? Like Als on the page today, Neel's paintings then captured all that she loved about the city, which is to say she imaged figures she knew had to be seen to be remembered."
— Antwaun Sargent

"In lieu of a single essay, Als intervenes between the paintings with ruminations on individual images. He fixates on the young man in Call Me Joe, 1955...He lingers on the exquisite watchfulness of the sallow-skinned, blue-frocked girl clutching a blonde baby doll in Julie and the Doll, 1943…"
— Kate Sutton

"Neel has the power to make us all feel less lonely in whatever roles – male and female, black and white, the powerful and the afflicted – nature and society have given us (or have tried to, at least)."
— Hilton Als

"'Alice Neel: Uptown,' by Hilton Als, captures Neel, in her own peculiar El Greco-esque style, capturing the psychological essence of her sitters."
— Peter Plagens

"Above all, though, what emerges is Neel's connection and love for her subjects. For her, Harlem was never defined by poverty, it seems, but by life. 'The fact that it was filled with people,' Als says, 'meant it was always filled with hope.'"
— Tim Adams

"A fascinating exploration of the painter's symbiotic relationship with Harlem. The potent yet personable paintings, mostly done in oil, are enduring proof of Neel's curious, compassionate eye, on and off the canvas."
— Lola Adesioya

"With their distinctive painterly style, Neel's portraits explore personalities, rather than physical types; they also memorialize figures historically excluded from the art world, which has long devalued depictions of people of colour, advancing a more capacious vision of community."
— Andrianna Campbell

"What distinguishes the current [Alice Neel] show are the eyes through which we see Neel's work. The exhibition is curated by Hilton Als, himself an artist of color whose writings earned him acclaim at a much earlier age than Neel. Though Als's stature adds an element of star power to the show, the experience is more of a dialogue than a monograph ? one in which Neel is as much Als's subject as Neel's sitters were hers."
— Mary Wang

"They are paintings you can't help but love, paintings that capture a strange beauty, a feral honesty, they have a rugged simplicity, an enveloping humanity."
— Felix Petty
David Zwirner Books, 9781941701607, 144pp.
Publication Date: May 23, 2017
About the Author
Hilton Als is an American writer based in New York. He became a staff writer at The New Yorker in 1994 and a theater critic in 2002. His first book, The Women, a meditation on gender, race, and personal identity, was published in 1996. His most recent book, White Girls, discusses various narratives around race and gender and was nominated for a 2013 National Book Critics Circle Award in Criticism. In 2017, Als was awarded the Pulitzer Prize for Criticism. Als is an associate professor of writing at Columbia University's School of the Arts and has taught at Yale University and Smith College, among other universities.

Alice Neel was born in 1900 in Merion Square, Pennsylvania, and died in 1984 in New York. With a practice spanning the 1920s to the 1980s, Neel is widely regarded as one of the foremost American figurative painters of the twentieth century. Based in New York, Neel chose her subjects from her family, friends, and a broad variety of locals, and her eccentric selection was thus a portrayal of, and dialogue with, the city in which she lived. Although she showed sporadically early in her career, from the 1960s onwards her work was exhibited widely in the United States. In 1974, she had her first retrospective at the Whitney Museum of American Art, New York.

Jeremy Lewison is a British independent curator, writer, and lecturer. Since 2003, he has acted as the advisor to The Estate of Alice Neel. He began his career in the art world in 1977 as curator of Kettle's Yard, University of Cambridge. In 1983, he joined Tate Gallery, London, where he became director of collections in 1998, and was responsible for publications and exhibitions on the works of Sol LeWitt, Brice Marden, Barnett Newman, and Jackson Pollock.
or
Not Currently Available for Direct Purchase