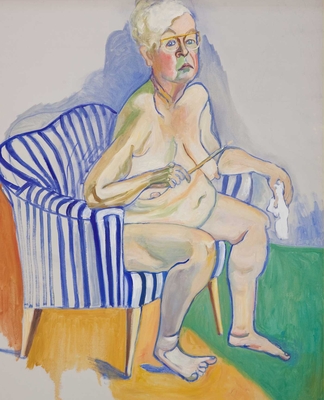 Alice Neel
Freedom
Hardcover

* Individual store prices may vary.
Other Editions of This Title:
Hardcover (4/28/2015)
Hardcover (6/1/2000)
Hardcover (8/31/2012)
Description
One of the foremost American figurative painters of the twentieth century, it is not surprising that Alice Neel was a humanist—she was fascinated by people.

Known for her daringly honest portraits, Neel loved to paint people in all their complexities—to penetrate and reveal their fears and anxieties, how they defiance and survival. She also loved to paint the unadorned human figure. Her nudes, in particular, explore the body with frankness while celebrating the individuality of each of her subjects, and they exemplify the freedom and courage with which she approached her work and her life.

Through her paintings and works on paper, Neel was able to free herself from the expected inhibitions and crippling taboos that were placed on women and focus on the beauty and nuanced complexity of flesh and the human body. In their mastery of form, color, and implied social commentary, her nudes are as relevant today as when they were painted.

Freedom documents the solo exhibition of the artist's work at David Zwirner in New York in 2019. Including works that span the 1920s to the 1980s, this presentation focuses primarily on the nude figure—whether male or female, adult or child—and demonstrates how Neel rebelled against and challenged the traditional perceptions of sexuality, motherhood, and beauty in our society. The catalogue includes newly commissioned scholarship by Helen Molesworth and an introduction by Ginny Neel of The Estate of Alice Neel.
Praise For Alice Neel: Freedom…
"Neel's work in 'Freedom' exemplifies her formal skill as a painter, and also her engagement with social issues."
— Caroline Goldstein

"Her work emulates and speaks and lusts out with a sense of humanity that I really admired, and was drawn to."
— Jordan Casteel

"The artist's lines are her signature: radical, sharp, freezing the sitters in their rawest reality." Milena Oldfield
— Milena Oldfield

"Davie Zwirner hosts a stereotypically masterful reclamation of the painter's works on paper with an emphasis on the bare form."
— Staff

"Freedom presents paintings and works on paper by one of the most thrilling and iconoclastic American figurative painters of the 20th century: Alice Neel."
— Sharmistha Ray

"Alice Neel was always ahead of her time… Neel didn't just paint women… she painted humanity."
— Ann Binlot

"The struggles of working artists are well-known, but, in recent years, attention has been given to mother-artists. 'Freedom' is a welcome addition to this ongoing conversation and is unabashed in its messiness…"
— Connor Goodwin

"Innumerable nudes are scattered across millennia of art history, but none look like Alice Neel's."
— Staff
David Zwirner Books, 9781941701980, 112pp.
Publication Date: April 23, 2019
About the Author
Alice Neel was born in 1900 in Merion Square, Pennsylvania, and died in 1984 in New York. With a practice spanning from the 1920s to the 1980s, Neel is widely regarded as one of the foremost American painters of the twentieth century. Based in New York, Neel selected her sitters from among her family members, friends, neighbors, and a variety of New Yorkers, and her eccentric portraits are thus a portrayal of, and dialogue with, the city in which she lived. Although she showed sporadically early in her career, from the 1960s onward her work was exhibited widely in the United States. In 1974, she had her first retrospective at the Whitney Museum of American Art, New York.