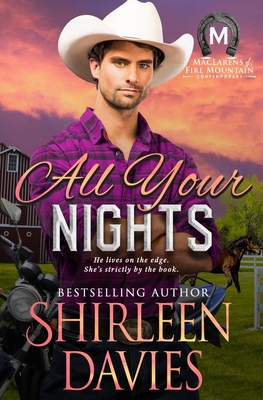 All Your Nights
Paperback

* Individual store prices may vary.
Description
"Romance, adventure, cowboys, suspense-everything you want in a contemporary western romance novel." Kade Taylor likes living on the edge. As an undercover agent for the DEA and a former Special Ops team member, his current assignment seems tame-keep tabs on a bookish Ph.D. candidate the agency believes is connected to a ruthless drug cartel. Brooke Sinclair is weeks away from obtaining her goal of a doctoral degree. She spends time finalizing her presentation and relaxing with another student who seems to want nothing more than her friendship. That's fine with Brooke. Her last serious relationship ended in a broken engagement. Her future is set, safe and secure, just as she's always planned-until Agent Taylor informs her she's under suspicion for illegal drug activities. Kade and his DEA team obtain evidence exonerating Brooke while placing her in danger from those who sought to use her. As Kade races to take down the drug cartel while protecting Brooke, he must also find common ground with the former suspect-a woman he desires with increasing intensity. At odds with her better judgment, Brooke finds the more time she spends with Kade, the more she's attracted to the complex, multi-faceted agent. But Kade holds secrets he knows Brooke will never understand or accept. Can Kade keep Brooke safe while coming to terms with his past, or will he stay silent, ruining any future with the woman his heart can't let go? Read, All Your Nights, book four in the MacLarens of Fire Mountain Contemporary Romance series. From the Author Join Shirleen Davies' Newsletter to Receive Notice of: - New Releases - Contests - Free Reads & Sneak Peeks To sign up copy and paste this site address into your browser's address bar: http: //bit.ly/1KqhKwm.
Avalanche Ranch Press LLC, 9781941786109, 300pp.
Publication Date: May 12, 2016
About the Author
Shirleen Davies writes romance-historical, contemporary, and romantic suspense. She grew up in Southern California, attended Oregon State University, and has degrees from San Diego State University and the University of Maryland. During the day she provides consulting services to small and mid-sized businesses. But her real passion is writing emotionally charged stories of flawed people who find redemption through love and acceptance. She now lives with her husband in a beautiful town in northern Arizona.