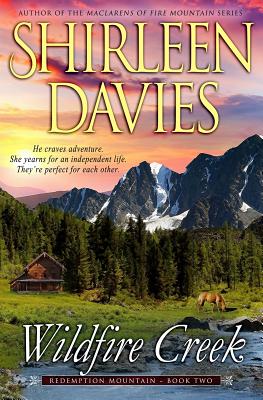 Wildfire Creek
Paperback

* Individual store prices may vary.
Description
"A passionate story of rebuilding lives and working to find a place in the wild frontier during the years following the American Civil War. A rugged, heartwarming story of choices and love in the continuing saga of Redemption Mountain." Luke Pelletier is settling into his new life as a rancher and occasional Pinkerton Agent, leaving his past as an ex-Confederate major and Texas Ranger far behind. He wants nothing more than to work the ranch, charm the ladies, and live a life of carefree bachelorhood. Ginny Sorensen has accepted her responsibility as the sole provider for herself and her younger sister. The desire to continue their journey to Oregon is crushed when the need for food and shelter keeps them in the growing frontier town of Splendor, Montana, forcing Ginny to accept work as a server in the local saloon. Luke has never met a woman as lovely and unspoiled as Ginny. He longs to know her, yet fears his wild ways and unsettled nature aren't what she deserves. She's a girl you marry, but that is nowhere in Luke's plans. Complicating their tenuous friendship, a twist in circumstances forces Ginny closer to the man she most wants to avoid-the man who can destroy her dreams, and who's captured her heart. Believing his bachelor status firm, Luke moves from danger to adventure, never dreaming each step he takes brings him closer to his true destiny and a life much different from what he imagines.
Avalanche Ranch Press LLC, 9781941786123, 480pp.
Publication Date: January 26, 2015
About the Author
Shirleen Davies writes romance-historical, contemporary, and romantic suspense. She grew up in Southern California, attended Oregon State University, and has degrees from San Diego State University and the University of Maryland. During the day she provides consulting services to small and mid-sized businesses. But her real passion is writing emotionally charged stories of flawed people who find redemption through love and acceptance. She now lives with her husband in a beautiful town in northern Arizona.