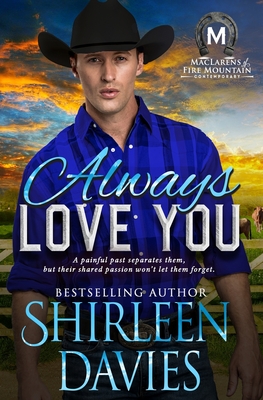 Always Love You
Paperback

* Individual store prices may vary.
Description
Always Love You- Book Five in the MacLarens of Fire Mountain Contemporary Romance series. "Cowboys, passion, suspense, and family all come together to provide a great read. Couldn't put it down." Reviewer. Eric Sinclair loves his bachelor status. His work at MacLaren Enterprises leaves him with plenty of time to ride his horse as well as his Harley...and date beautiful women without a thought to commitment. Amber Anderson is the new person at MacLaren Enterprises. Her passion for marketing landed her what she believes to be the perfect job-until she steps into her first meeting to find the man she left, but still loves, sitting at the management table-his disdain for her clear. Eric won't allow the past to taint his professional behavior, nor will he repeat his mistakes with Amber, even though love for her pulses through him as strong as ever. As they strive to mold a working relationship, unexpected danger confronts those close to them, pitting the MacLarens and Sinclairs against an evil who stalks one member but threatens them all. Eric can't get the memories of their passionate past out of his mind, while Amber wrestles with feelings she thought long buried. Will they be able to put the past behind them to reclaim the love lost years before? Read, Always Love You, book five in the MacLarens of Fire Mountain Contemporary Romance series. From the Author Join Shirleen Davies' Newsletter to Receive Notice of: - New Releases - Contests - Free Reads & Sneak Peeks To sign up copy and paste this site address into your browser's address bar: http: //bit.ly/1KqhKwm.
Avalanche Ranch Press LLC, 9781941786147, 348pp.
Publication Date: May 12, 2016
About the Author
Shirleen Davies writes romance-historical, contemporary, and romantic suspense. She grew up in Southern California, attended Oregon State University, and has degrees from San Diego State University and the University of Maryland. During the day she provides consulting services to small and mid-sized businesses. But her real passion is writing emotionally charged stories of flawed people who find redemption through love and acceptance. She now lives with her husband in a beautiful town in northern Arizona.