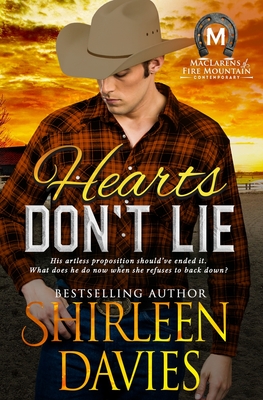 Hearts Don't Lie
Paperback

* Individual store prices may vary.
Description
Hearts Don't Lie - Book Six, MacLarens of Fire Mountain Contemporary Romance Series "If you like cowboys, gritty heroes and heroines, all mixed with passion and suspense, you'll love the MacLarens of Fire Mountain." Mitch MacLaren has reasons for avoiding relationships, and in his opinion, they're pretty darn good. As the new president of RTC Bucking Bulls, difficult challenges occur daily. He certainly doesn't need another one in the form of a fiery, blue-eyed, redhead. Dana Ballard's new job forces her to work with the one MacLaren who can't seem to get over himself and lighten up. Their verbal sparring is second nature and entertaining until the night of Mitch's departure when he surprises her with a dare she doesn't refuse. With his assignment in Fire Mountain over, Mitch is free to return to Montana and run the business his father helped start. The glitch in his enthusiasm has to do with one irreversible mistake-the dare Dana didn't ignore. Now, for reasons that confound him, he just can't let it go. Working together is a circumstance neither wants, but both must accept. As their attraction grows, so do the accidents and strange illnesses of the animals RTC depends on to stay in business. Mitch's total focus should be on finding the reasons and people behind the incidents. Instead, he finds himself torn between his unwanted desire for Dana and the business which is his life. In his mind, a simple proposition can solve one problem. Will Dana make the smart move and walk away? Or take the gamble and expose her heart? Hearts Don't Lie, Book Six in the MacLarens of Fire Mountain Contemporary series. From the Author Join Shirleen Davies' Newsletter to Receive Notice of: - New Releases - Contests - Free Reads & Sneak Peeks To sign up copy and paste this site address into your browser's address bar: http: //bit.ly/1KqhKwm.
Avalanche Ranch Press LLC, 9781941786208, 324pp.
Publication Date: May 12, 2016
About the Author
Shirleen Davies writes romance-historical, contemporary, and romantic suspense. She grew up in Southern California, attended Oregon State University, and has degrees from San Diego State University and the University of Maryland. During the day she provides consulting services to small and mid-sized businesses. But her real passion is writing emotionally charged stories of flawed people who find redemption through love and acceptance. She now lives with her husband in a beautiful town in northern Arizona.