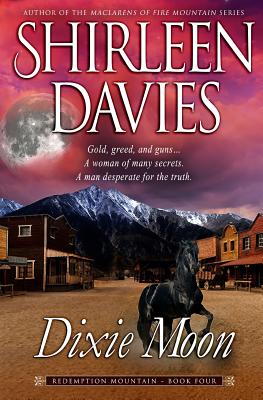 Dixie Moon
Paperback

* Individual store prices may vary.
Description
Dixie Moon, Book Four, Redemption Mountain Historical Western Romance Series "The author has a talent for bringing the historical west to life, realistically and vividly, and doesn't shy away from some of the harder aspects of frontier life, even though it's fiction. Recommended to readers who like sweeping western historical romances that are grounded with memorable, likeable characters and a strong sense of place." Gabe Evans is a man of his word with strong convictions and steadfast loyalty. As the sheriff of Splendor, Montana, the ex-Union Colonel and oldest of four boys from an affluent family, Gabe understands the meaning of responsibility. The last thing he wants is another commitment-especially of the female variety. Until he meets Lena Campanel... Lena's past is one she intends to keep buried. Overcoming a childhood of setbacks and obstacles, she and her friend, Nick, have succeeded in creating a life of financial success and devout loyalty to one another. When an unexpected death leaves Gabe the sole heir of a considerable estate, partnering with Nick and Lena is a lucrative decision...forcing Gabe and Lena to work together. As their desire grows, Lena refuses to let down her guard, vowing to keep her past hidden-even from a perfect man like Gabe. But secrets never stay buried... When revealed, Gabe realizes Lena's secrets are deeper than he ever imagined. For a man of his character, deception and lies of omission aren't negotiable. Will he be able to forgive the deceit? Or is the damage too great to ever repair? From the Author Join Shirleen Davies' Newsletter to Receive Notice of: - New Releases - Contests - Free Reads & Sneak Peeks To sign up copy and paste this site address into your browser's address bar: http: //bit.ly/1KqhKwm.
Avalanche Ranch Press LLC, 9781941786246, 424pp.
Publication Date: October 29, 2015