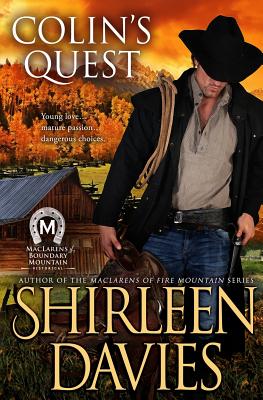 Colin's Quest
MacLarens of Boundary Mountain Historical Western Romance Series
Paperback

* Individual store prices may vary.
Description
Colin's Quest, Book One, MacLarens of Boundary Mountain Historical Western Romance Series For An Undying Love... When Colin MacLaren headed west on a wagon train, he hoped to find adventure and perhaps a little danger in untamed California. He never expected to meet the girl he would love forever. He also never expected her to be the daughter of his family's age-old enemy, but Sarah was a MacGregor and the anger he anticipated soon became a reality. Her father would not be swayed, vehemently refusing to allow marriage to a MacLaren. Time Has No Effect... Forced apart for five years, Sarah never forgot Colin-nor did she give up on his promise to come for her. Carrying the brooch he gave her as proof of their secret betrothal, she scans the trail from California, waiting for Colin to claim her. Unfortunately, her father has other plans. And Enemies Hold No Power. Nothing can stop Colin from locating Sarah. Not outlaws, runaways, or miles of difficult trails. However, reuniting is only the beginning. Together they must find the courage to fight the men who would keep them apart-and conquer the challenge of uniting two independent hearts. From the Author Join Shirleen Davies' Newsletter to Receive Notice of: - New Releases - Contests - Free Reads & Sneak Peeks To sign up copy and paste this site address into your browser's address bar: http: //bit.ly/1KqhKwm.
Avalanche Ranch Press LLC, 9781941786260, 384pp.
Publication Date: November 14, 2015