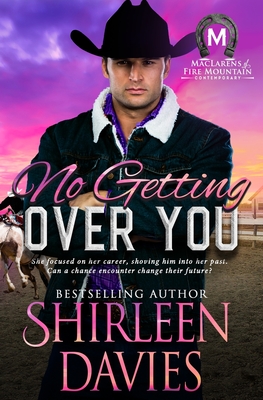 No Getting Over You
Paperback

* Individual store prices may vary.
Description
No Getting Over You - Book Seven, MacLarens of Fire Mountain Contemporary Romance Series "I didn't think the author could improve on book six, but each story in this series gets better. Real characters who draw you in and keep you reading. No Getting Over You is a wonderful read " Cassie MacLaren has come a long way since being dumped by her long-time boyfriend, a man she believed to be her future. Successful in her job at MacLaren Enterprises, dreaming of one day leading one of the divisions, she's moved on to start a new relationship, having little time to dwell on past mistakes. Matt Garner loves his job as rodeo representative for Double Ace Bucking Stock. Busy days and constant travel leave no time for anything more than the occasional short-term relationship-which is just the way he likes it. He's come to accept the regret of leaving the woman he loved for the pro rodeo circuit. The future is set for both, until a chance meeting ignites long buried emotions neither is willing to face. Forced to work together, their attraction grows, even as multiple arson fires threaten Cassie's new home of Cold Creek, Colorado. Although Cassie believes the danger from the fires is remote, she knows the danger Matt poses to her heart is real. While fighting his renewed feelings for Cassie, Matt focuses on a new and unexpected opportunity offered by MacLaren Enterprises-an opportunity that will put him on a direct collision course with Cassie. Will pride and self-preservation control their future? Or will one be strong enough to make the first move, risking everything, including their heart? No Getting Over You, book seven in the MacLarens of Fire Mountain Contemporary series, is a full-length novel with an HEA. From the Author Join Shirleen Davies' Newsletter to Receive Notice of: - New Releases - Contests - Free Reads & Sneak Peeks To sign up copy and paste this site address into your browser's address bar: http: //bit.ly/1KqhKwm.
Avalanche Ranch Press LLC, 9781941786291, 340pp.
Publication Date: May 12, 2016
About the Author
Shirleen Davies writes romance-historical, contemporary, and romantic suspense. She grew up in Southern California, attended Oregon State University, and has degrees from San Diego State University and the University of Maryland. During the day she provides consulting services to small and mid-sized businesses. But her real passion is writing emotionally charged stories of flawed people who find redemption through love and acceptance. She now lives with her husband in a beautiful town in northern Arizona.