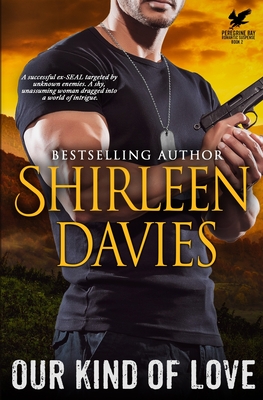 Our Kind of Love
Paperback

* Individual store prices may vary.
Description
Our Kind of Love - Book Two, Peregrine Bay Contemporary Romance Series "This author has a win on her hands. It is a book filled with suspense, action, modern-day technology, family and yes, romance. I absolutely loved every moment of this book and could hardly set it aside..." Selena Kerrigan is content with a life filled with work and family, never feeling the need to take a chance on a relationship-until she steps into a social world inhabited by a man with dark hair and penetrating blue eyes. Eyes that are fixed on her. Lincoln Caldwell is a man satisfied with his life. Transitioning from an enviable career as a Navy SEAL to becoming a successful entrepreneur, his days focus on growing his security firm, spending his nights with whomever he chooses. Committing to one woman isn't on the horizon-until a captivating woman with caramel eyes sends his personal life into a tailspin. Believing her identity remains a secret, Selena returns to work, ready to forget about running away from the bed she never should have gone near. She's prepared to put the colossal error, as well as the man she'll never see again, behind her. Too bad the object of her lapse in judgment doesn't feel the same. Linc is good at tracking his targets, and Selena is now at the top of his list. It's amazing how a pair of sandals and only a first name can say so much. As he pursues the woman he can't rid from his mind, a series of cyber-attacks hit his business, threatening its hard-won success. Worse, and unbeknownst to most, Linc harbors a secret-one with the potential to alter his life, along with those he's close to, in ways he could never imagine. Our Kind of Love, book two in the Peregrine Bay Contemporary Romance series, is a full-length novel with an HEA and no cliffhanger. From the Author Join Shirleen Davies' newsletter to receive notice of: - New Releases - Contests - Free Reads and Sneak Peeks To sign up, copy and paste this site address into your browser's address bar: http: //bit.ly/1KqhKwm.
Avalanche Ranch Press LLC, 9781941786314, 268pp.
Publication Date: May 12, 2016
About the Author
Shirleen Davies writes romance-historical, contemporary, and romantic suspense. She grew up in Southern California, attended Oregon State University, and has degrees from San Diego State University and the University of Maryland. During the day she provides consulting services to small and mid-sized businesses. But her real passion is writing emotionally charged stories of flawed people who find redemption through love and acceptance. She now lives with her husband in a beautiful town in northern Arizona.