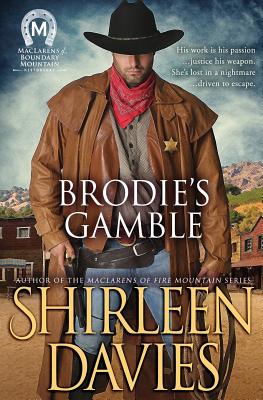 Brodie's Gamble
Paperback

* Individual store prices may vary.
Description
Brodie's Gamble, Book Two, MacLarens of Boundary Mountain Historical Western Romance Series "Every book of Shirleen's never fails to draw me in and make it impossible to put down until I devour it " Brodie MacLaren has a dream. He yearns to wear the star-bring the guilty to justice and protect those who are innocent. In his mind, guilty means guilty, even when it includes a beautiful woman who sets his body on edge. Maggie King lives a nightmare, wanting nothing more than to survive each day and recapture the life stolen from her. Each day she wakes and prays for escape. Taking the one chance she may ever have, Maggie lashes out, unprepared for the rising panic as the man people believe to be her husband lies motionless at her feet. Deciding innocence and guilt isn't his job. Brodie's orderly, black and white world spins as her story of kidnapping and abuse unfold. The fact nothing adds up as well as his growing attraction to Maggie cause doubts the stoic lawman can't afford to embrace. Can a lifetime of believing in absolute right and wrong change in a heartbeat? Maggie has traded one form of captivity for another. Thoughts of escape consume her, even as feelings for the handsome, unyielding lawman grow. As events unfold, Brodie must fight more than his attraction. Someone is after Maggie-a real threat who is out to silence her. He's challenged on all fronts-until he takes a gamble that could change his life or destroy his heart. Brodie's Gamble, book two in the MacLarens of Boundary Mountain historical western romance series, is a full-length novel with an HEA and no cliffhanger.
Avalanche Ranch Press LLC, 9781941786352, 380pp.
Publication Date: June 15, 2016
About the Author
Shirleen Davies writes romance-historical, contemporary, and romantic suspense. She grew up in Southern California, attended Oregon State University, and has degrees from San Diego State University and the University of Maryland. During the day she provides consulting services to small and mid-sized businesses. But her real passion is writing emotionally charged stories of flawed people who find redemption through love and acceptance. She now lives with her husband in a beautiful town in northern Arizona.