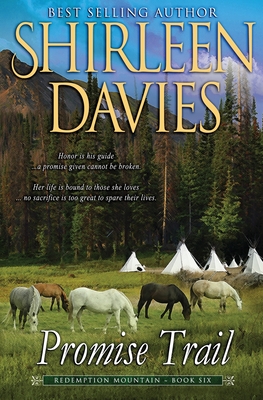 Promise Trail
Paperback

* Individual store prices may vary.
Description
Promise Trail, Book Six, Redemption Mountain Historical Western Romance Series Bull Mason has built a life far away from his service in the Union Army and the ravages of the Civil War. He's achieved his dreams-loyal friends, work he enjoys, a home of his own, and a promise from the woman he loves to become his wife. Lydia Rinehart can't believe how much her life has changed. Escaping captivity from a Crow village, she finds refuge and a home at the sprawling Redemption's Edge ranch...and love in the arms of Bull Mason, the ranch foreman. For the first time since her parents' death, she feels cherished and safe. In an instant their dreams are crushed... Bull is resolute in his determination to track down and rescue Lydia's brother, kidnapped during the celebration of their friend's wedding. He's made a promise-one he intends to keep. Picking the best men, they are ready to ride, until he's given an ultimatum. Choices can seldom be undone... As their journey continues, the trackers become the prey, finding their freedom and lives threatened. And promises broken can rarely be reclaimed... Can Bull and Lydia trust each other again and find their way to back to the dreams they once shared? Promise Trail is book six in the Redemption Mountain historical western romance series. It is a full-length novel with an HEA and no cliffhanger.
Avalanche Ranch Press LLC, 9781941786383, 382pp.
Publication Date: September 23, 2016
About the Author
Shirleen Davies writes romance-historical, contemporary, and romantic suspense. She grew up in Southern California, attended Oregon State University, and has degrees from San Diego State University and the University of Maryland. During the day she provides consulting services to small and mid-sized businesses. But her real passion is writing emotionally charged stories of flawed people who find redemption through love and acceptance. She now lives with her husband in a beautiful town in northern Arizona.