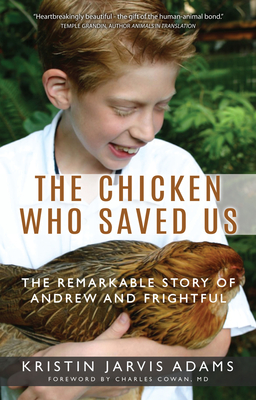 The Chicken Who Saved Us (Paperback)
The Remarkable Story of Andrew and Frightful
Behler Publications, 9781941887004, 290pp.
Publication Date: April 4, 2017
* Individual store prices may vary.
Description
The award-winning, laugh-out-loud, reach-for-the-tissues story of an autistic boy's desperate struggle to survive a deadly illness and the backyard chicken who transforms his life into a tale of improbable hope and miraculous healing. "Heartbreakingly beautiful - the gift of the human animal bond." --Temple Grandin Eight-year-old Andrew is autistic and bilingual. He speaks English-and Chicken. With words limited by autism, Andrew lives in a fantastic world where chickens talk and superheroes come alive. But when he tells his pet chicken Frightful that his body is trying to kill him, it launches Andrew's family and an entire medical community into a decade-long quest for answers. This beautiful, fierce, and refreshingly honest memoir takes readers on a mother's journey through the complex landscape of modern medicine to discover the healing bond between a boy and Frightful, the chicken who saves them all. Praise for The Chicken Who Saved Us: "This book is proof that the transcendent human-animal bond can offer a very real kind of salvation." --Julie Barton, New York Times Bestselling author of Dog Medicine, How My Dog Saved Me from Myself "A lovely tale that shows us how human thoughts and words are not always necessary to form great friendships and unbreakable bonds." --John Elder Robison, New York Times Bestselling author of Look Me in the Eye: My Life with Asperger's
About the Author
Kristin Adams is a public speaker and advocate for children with special needs, helping to bridge the gap between the outside world and the inner world of autism. Her speaking engagements have included: Seattle Festival of Trees Gala, a benefit for Seattle Children's Hospital and The Autism Clinic, Rotary, Community Bible Study and local school boards. She also works individually with children who have special needs. She serves on the Board of the Lake Washington School District Transition Academy (lwsd.org), one of the nation's leading transition programs for adult students with special needs. In the fall of 2015, she will be joining the Autism Guild at Seattle Children's Hospital, a medical fundraising and awareness group supporting children with ASD in Washington, Montana, Oregon and Idaho. Her son's incredible story and extensive experience working with special needs children was featured at a recent Lake Washington School Board meeting. Subsequent media attention led to local news broadcasts and newspaper features citing the overwhelming success of the LWSD Transition Academy.Her blog, Andrew's Journey, was crafted during the wee hours of the night on an iPhone, from her 'little cot in the corner' of a very small hospital room. Andrew's Journey chronicles the two years pre and post-transplant, and can be found at jonoffice.wordpress.com. Formerly known as the Delta Society, her work with Pet Partners (petpartners.org), as part of a Therapy Dog Team with her Goldendoodle Finn, has opened doors for her to work with people of all disabilities in classrooms, clinics, retirement homes and community centers. Pet Partners requires extensive training to become a certified therapy team. The program utilizes positive human-animal interactions to improve the physical, emotional and psychological lives of those they work with. She also was the founder of The Breakfast Club, a support group for mother's of special needs children. The bi-weekly discussion group covered topics such as navigating IEP's in the public school system, emotional and physical health, establishing friendship opportunities, and working with staff and teachers to facilitate learning. Kristin lives near Seattle with her husband and their two children.