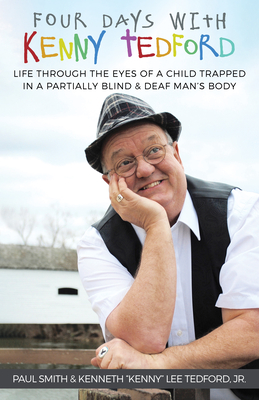 Four Days with Kenny Tedford
Life Through the Eyes of a Child Trapped in a Partially Blind & Deaf Man's Body
Paperback

* Individual store prices may vary.
Description
Kenny Tedford is one of only two deaf people in the world with a master's degree in storytelling, which he earned at 55, almost half a century after being told by teachers and psychologists that he would never complete the third grade. Oxygen deprivation in utero resulted in Kenny being born deaf, partial blindness, partial paralysis on his left side, and an inability to speak clearly until the age of 10. Kenny also suffers cognitive impairment, similar to the fictional character Forrest Gump, which gives him the same child-like innocence and leads to the same sort of hilarious misunderstandings and malaprops that made Gump both lovable and entertaining. Kenny's life could easily have been nothing but a depressingly sullen tale of victimhood. Instead, it turned out to be one filled with a unique combination of joy, humor, friendship, heartbreak, accomplishment, faith, and peace.
Behler Publications, 9781941887028, 330pp.
Publication Date: November 26, 2019
About the Author
Paul Smith is one of the world's leading experts on organizational storytelling. He's a keynote speaker, storytelling coach, and author of three books: Lead with a Story: A Guide to Crafting Business Narratives that Captivate, Convince, and Inspire - a top seller with over 45,000 books sold (print and e-book), now in its 8th printing and available in 7 languages around the world. Formerly #1 best seller on Amazon in business communication and #2 in leadership. (Amacom, 2012) Sell with a Story: How to Capture Attention, Build Trust, and Close the Sale - A new release that recently hit #1 on Amazon's Sales and Selling category. (Amacom, Sept. 2016) Parenting with a Story: Real-Life Lessons in Character for Parents and Children to Share (Amacom, 2014) Paul is a former consultant at Accenture and former executive and 20-year veteran of The Procter & Gamble Company. As part of his research on the effectiveness of storytelling, Paul has personally interviewed over 250 CEOs, executives, leaders, and salespeople in 25 countries, documenting over 2,000 individual stories. Leveraging those stories and interviews, Paul identified the components of effective storytelling, and developed templates and tools to apply them in practice. His work has been featured in The Wall Street Journal, Inc. Magazine, Time, Forbes, Fast Company, The Washington Post, PR News, and Success Magazine, among others. Paul delivers professional workshops and keynote addresses on effective storytelling for leaders and salespeople. His clients include international giants like Hewlett Packard, Google, Ford Motor Company, Bayer Medical, Abbott, Novartis, Progressive Insurance, Kaiser Permanente, and Procter & Gamble. Paul holds a bachelor's degree in economics, and an MBA from the Wharton School at the University of Pennsylvania. He lives with his wife and two sons in the Cincinnati suburb of Mason, Ohio. He can be found at www.leadwithastory.com.