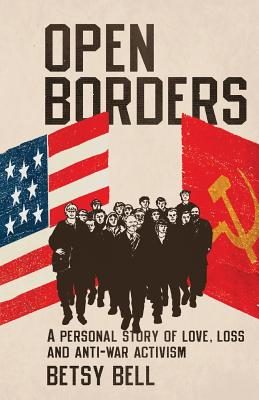 Open Borders
A Personal Story of Love, Loss, and Anti-War Activism
Paperback

* Individual store prices may vary.
Description
It is 1983, and the anti-war movement Target Seattle is preparing for a trip to Tashkent, Seattle's Sister City in Uzbekistan. Betsy Bell's husband, Don, is the chair of the executive committee of Target Seattle, and co-leader of the trip. Travelling with three thousand copies of a peace petition, as well as her seventeen-year-old daughter and thirty others, Betsy sees first-hand the risks of travelling as an American to the USSR. She also sees the heart-warming stories of people-to-people connections across political boundaries. Upon returning to the US, Betsy pushes to find her own voice in a world where a wife's goals are subservient to her husband's. As tensions between the US and USSR are only increasing, Betsy travels to Washington, DC. She speaks to elected officials and the United Nations in favor of open borders, even as conflicting aspirations and careers become a point of contention in her marriage. With honesty and poise, Betsy chronicles a history of a time when ordinary citizens were transformed into agents of peace
Praise For Open Borders: A Personal Story of Love, Loss, and Anti-War Activism…
"Open Borders tells a story both personal and world-changing.... Betsy writes beautifully as she narrates her own passion for citizen diplomacy between the world's two nuclear super powers at a time the Soviets seemed determined to bury us. [...] An inspiring memoir with follow on essays by and about extra-ordinary citizens who brought heart to the Cold War. Betsy Bell offers us a deepened and expanded awareness of how citizen diplomacy changes our world."
--David C Hall MD, Past president, PSR and WPSR; author of America's Exceptional Violence
"With global tensions rising and the threat of nuclear weapons again coming into public consciousness, this is a timely reminder of the power of peoples movements to make the world safer for everyone."
--Susi Snyder, International Campaign to Abolish Nuclear Weapons (2017 Nobel Peace Prize)
Epicenter Press (WA), 9781941890219, 132pp.
Publication Date: October 16, 2018
About the Author
Betsy Bell, born before WWII in New York City, spent her formative years in the Jim Crow town of Muskogee, Oklahoma. As a Girl Scout she began her social justice activism working with a bi-racial team to plan desegregation after the 1954 Supreme Court decision to integrate public schools. Graduating from Bryn Mawr College with a BA in 1959 and an MA in 1963, she began an academic career in Lawrence, Kansas where her husband taught. In Lawrence, she advocated for reproductive rights with Planned Parenthood. She lives in Seattle where she has held several career positions, interrupted by long residential stays in England and South Africa where her husband''s academic work took him. Twice widowed, Betsy has published two short memoirs and several poems.
For the past fourteen years, Betsy has worked with the Seattle area faith communities toward economic justice through the Jubilee USA Network. She has traveled extensively in many parts of the world, with her two deceased husbands, one or more of her sixteen grandchildren, four daughters or four step-children. She has maintained a direct selling health related business for the past thirty years. Betsy believes in the power of ordinary citizens to create a positive, inclusive and just society. Visit her web site to learn about her career as a writer and sign up to receive notification of the publication of her first memoir, Open Borders: A Personal Story of Love, Loss and Anti-war Activism. Learn more at MyLifeasFiction.com.