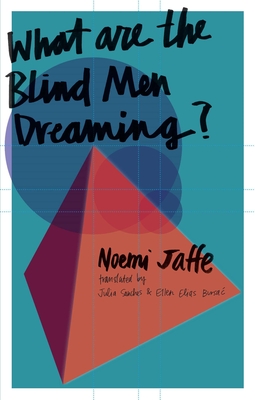 What Are the Blind Men Dreaming?
Paperback

* Individual store prices may vary.
Description
This is much more than a survival story. It is the story of how the scars of a woman can be and are passed through generations. It is about being a woman, a mother, and a daughter.--Gabriela Almeida, Continente
An infinite work.--O Estad o de S o Paulo
A groundbreaking use of storytelling to bear witness to the Holocaust features three generations of women's own voices--Lili's diary written upon liberation from Auschwitz; daughter Noemi Jaffe exploring the power of memory, survival, and bearing witness; and granddaughter Leda, Noemi's daughter, on the significance of the Holocaust and Jewish identity seventy years after the war.

Deep Vellum Publishing, 9781941920367, 264pp.
Publication Date: October 25, 2016
About the Author
Noemi Jaffe is an award-winning Brazilian writer whose literary career has exploded in the last five years, gaining critical acclaim and momentum worldwide, with her works being translated into nearly a dozen languages. After working as a teacher of Brazilian Literature for more than 20 years and concluding her academic career with a PhD on the poetry of Antonio Cicero, Noemi Jaffe published a poetry volume, her first publication, in 2005 at the age of 43. At that time, she was already working as a literary reviewer for the cultural supplement of daily Folha de S.Paulo and had published some books on literary theory. From then on, she started dedicating herself more and more to literature, working across several genres, including novels, short stories, essays, and creative nonfiction. Presently, Noemi Jaffe also contributes with a monthly column for the newspaper Valor Economico and for the magazine Harper s Bazaar. She teaches a regular course on Creative Writing at Casa do Saber. She lives in Sao Paulo, Brazil.. Julia Sanches is Brazilian by birth but has lived in New York, Mexico City, Lausanne, Edinburgh, and Barcelona. She is a graduate of Comparative Literature and Literary Translation at UPF in Barcelona, and she completed her M.A. in Philosophy and English Literature at the University of Edinburgh in Scotland in 2010. Her most recent translation is Now and at the Hour of Our Death by Susana Moreira Marques (And Other Stories, 2015). She lives in New York City. Ellen Elias-Bursac has been translating novels and non-fiction by Bosnian, Croatian, and Serbian writers for thirty years. A contributing editor to Asymptote Journal, she has taught at the Harvard Slavic Department, Tufts University, Arizona Statue, and the New England Friends of Bosnia and Herzegovina, and spent over six years at the ex-Yugoslav War Crimes Tribunal in The Hague as a translator/reviser in the English Translation Unit. Her translation of David Albahari's book of short stories "Words Are Something Else" was given an award by AATSEEL in 1998, and ALTA's National Translation Award was given to her translation of Albahari's novel "Gotz and Meyer" in 2006. Her translation of Da a Drndic's novel "Trieste" was shortlisted for the Independent Foreign Fiction Prize in 2013 and won not the IFFP, but the IFFP readers award, conferred by a group of some 300 readers. She has co-authored a textbook for the study of Bosnian, Croatian, Serbian with Ronelle Alexander, now in its 2nd edition, is a recipient of an NEA translation grant (2010), and was a fellow at the Banff International Literary Translation Centre in June, 2011. She lives in Boston."