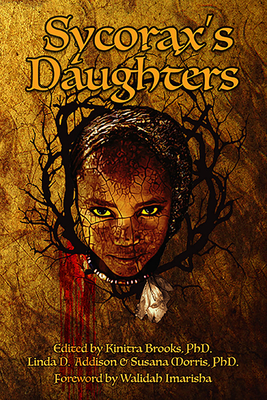 Sycorax's Daughters
Paperback

* Individual store prices may vary.
Description
A 2018 Bram Stoker Award Finalist! Thought-provoking, powerful, and revealing, this anthology is composed of 28 dark stories and 14 poems written by African-American women writers. The tales of what scares, threatens, and shocks them will enlighten and entertain readers. The works delve into demons and shape-shifters from "How to Speak to the Bogeyman" and "Tree of the Forest Seven Bells Turns the World Round Midnight" to far future offerings such as "The Malady of Need". These pieces cover vampires, ghosts, and mermaids, as well as the unexpected price paid by women struggling for freedom and validation in the past. Contributors include: Tiffany Austin, Tracey Baptiste, Regina N. Bradley, Patricia E. Canterbury, Crystal Connor, Joy M. Copeland, Amber Doe, Tish Jackson, Valjeanne Jeffers, Tenea D. Johnson, R. J. Joseph, A. D. Koboah Nicole Givens Kurtz, Kai Leakes, A. J. Locke, Carole McDonnell, Dana T. McKnight , LH Moore, L. Penelope, Zin E. Rocklyn , Eden Royce, Kiini Ibura Salaam, Andrea Vocab Sanderson, Nicole D. Sconiers, Cherene Sherrard, RaShell R. Smith-Spears, Sheree Renée Thomas, Lori Titus, Tanesha Nicole Tyler, Deborah Elizabeth Whaley, L. Marie Wood, K. Ceres Wr
Praise For Sycorax's Daughters…
"This anthology is historic in its recognition of women of color writers in a genre that usually doesn't know what to do with us."  —Jewelle Gomez, author, The Gilda Stories

"The daughters of Africa always have been beset by horrors on these shores. This groundbreaking anthology of stories and poems courageously explores and deconstructs horror tropes of monsters, spirits, curses and death through the experiences of African-American women shaped our shared history.  My love for horror began with my mother, the late civil rights activist Patricia Stephens Due, who taught me that art could be a healing way to confront and give coherence to our more dangerous passages in life. That is the essence of this volume. Contributors to Sycorax's Daughters range from established authors like Sherée Rene Thomas to newcomers, all of them writing with passion and power to delight, inform and intrigue you—oh yes, and to haunt you, body and soul."  —Tananarive Due,author, My Soul to Keep

"Shakespeare stole Sycorax's point of view from the world. Sycorax's Daughters draws that perspective to the fore, allowing Black women to explain themselves, and the evils they have experienced, to the delight of readers who are ready to hear."  —Book Riot

"Sycorax's Daughters is imaginative, lyrical, intelligent, beautiful, and terrifying. The editors, Kinitra Brooks, Ph.D., Linda D Addison, and Susana Morris Ph.D. chose powerful stories, poems, and novel excerpts. When you read them, you step into another world. Within these pages, monsters receive fresh and startling retellings. Vampires aren't tired, Transylvanian Princes. They are far more deadly and erotic. Mermaids are outcasts among their own kind, demons require vengeance, monsters prey upon males (and wear interesting footwear), paranormal detectives investigate, and ghosts seek to leech off the living. I've read many anthologies. Most have included big name horror authors. None of these previous anthologies thrilled me as much as this one. I kept expecting to find a lump of coal among the gems. I never found one. I don't think you will either." —Natching T. Kassa, horroraddicts.wordpress.com

"Sycorax's Daughters is an anthology displaying the deep creative minds of a group of knowledgeable writers and recent to the genre women writers of color. Wonderfully written and crafted, this anthology is a new classic. A mixed bag of poetry and short stories, these woman writers present a gift to us, the reader of tales of things that go bump in the night or rise up from a mist in the bayou during the witching hour. Women Griots of darkness they are. I once wrote that the black experience in horror is a dual track in that we as a people enjoy the genre in all of its forms but also from a historical view suffered it. This anthology enforces my view. It also bridges the work and legacy of Jewelle Gomez, Tananarive Due, and the immortal L.A. Banks. Edited by award-winning author Linda D Addison, Kinitra Brooks Ph.D., and Susanna Morris Ph.D. with added editing by Wei Ming Dariotis Ph.D. Forward by Walidah Imarisha and introduction by Ms. Brooks." —James Goodridge, horroraddicts.wordpress.com
Cedar Grove Publishing, 9781941958445, 565pp.
Publication Date: March 10, 2017
About the Author
Kinitra Brooks, PhD., is an associate professor of English. Her articles have been published in African American Review, FEMSPEC, and Obsidian: Literature and Arts in the African Diaspora. She lives in Antonio, Texas. Linda D. Addison is a writer who has published more than 300 poems, stories, and articles, and the first African-American recipient of the HWA Bram Stoker Award. Her work has published in anthologies such as The Beauty of Death and Scary Out There. She lives in Tucson, Arizona. Susana Morris, PhD., is an associate professor of African American Literature and the cofounder of the blog The Crunk Feminist Collective. She is the author of Close Kin and Distant Relatives. She lives in Auburn, Alabama.  Walidah Imarisha is an educator, poet, public scholar, and organizer. She is the author of Angels with Dirty Faces and Scars/Stars, and the coeditor of Octavia's Brood. She lives in Portland, Oregon.