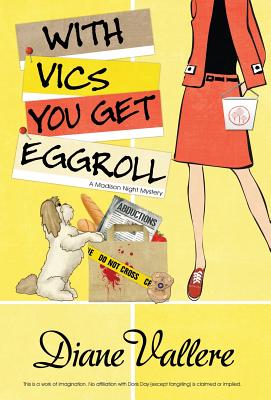 With Vics You Get Eggroll
Hardcover

* Individual store prices may vary.
Other Editions of This Title:
Paperback (4/14/2015)
MP3 CD (1/24/2017)
Description
VINTAGE VENDETTA "A sense of danger and menace pervades the entire novel, but it is lightened by Mad's genuine likability and strength. Vallere has crafted an extremely unique mystery series with an intelligent heroine whose appeal will never go out of style." - Kings River Life Magazine "If you love Doris Day, you'll love Madison Night, decorator extraordinaire. She specializes in restoring mid-century homes and designs, and her latest project involves abductions, murder and vengeance " - Books for Avid Readers "This is a very good book...While there were plenty of viable suspects, when the final scenes arrived, the ending was as scary as it was believable in the fact that knowing how people think in the real world, it could have been factual. Highly recommended, and I look forward to the next installment in this mystery series." - Any Good Book "The story kept me entertained and interested...The characters were likable and fit into the story very well. I would definitely recommend " - Deb Krenzer, Booklikes "Vallere has added another successful mystery to the Mad for Mod series. In With Vics You Get Eggroll she delivers her most suspenseful story yet...It was very hard to turn the last page in this book. I absolutely loved it, as I did the two books that came before it." - Loralee Peterson, Librarian "This is the second book in this series that I've read and I loved it...This story twists and turns and I was kept guessing until the end. I highly recommend this book, this series. Five stars." - Rott-i-Tude Book Reviews "A well-constructed tale with solid characters and page after page of interesting, intelligent dialogue. Diane Vallere delivers a cunning plot as well as humor and romance." - ReadertoReader Business as usual for mid-century modern interior decorator Madison Night involves a rundown ranch restoration and endorsing a set of retro paint colors. But when an investigation into a string of recent abductions turns up a murder vic, and evidence at the scene links the flirtatious Lt. Tex Allen to the crime, Madison's priorities shift faster than she can say "Doris Day." Voluntary suspension keeps Tex off the case, and pesky reporters force him to live in his car. Madison's own life is complicated by the return of her hunky handyman and her new demanding client. She immerses herself in routine, but suspects come out of the freshly-painted woodwork. When seemingly unrelated events lead back to the abductions, she exposes a secondary agenda, a copycat crime, and a vengeful plot to destroy someone she loves. Related subjects include: cozy mysteries, women sleuths, murder mystery series, whodunit mysteries (whodunnit), humorous murder mysteries, book club recommendations, amateur sleuth books, southern humor, Doris Day, chick lit. Books in the Mad for Mod Humorous Mystery Series: MIDNIGHT INK (prequel novella in OTHER PEOPLE'S BAGGAGE) PILLOW STALK (#1) THAT TOUCH OF INK (#2) WITH VICS YOU GET EGGROLL (#3) Part of the Henery Press Mystery Series Collection, if you like one, you'll probably like them all... Author Bio: After two decades working for a top luxury retailer, Diane Vallere traded fashion accessories for accessories to murder. She is a Lefty Best Humorous Mystery Nominee and, in addition to the Mad for Mod Series, writes the Material Witness and Style & Error Mysteries. Diane started her own detective agency at age ten and has maintained a passion for shoes, clues, and clothes ever since.
Henery Press, 9781941962466, 266pp.
Publication Date: April 14, 2015