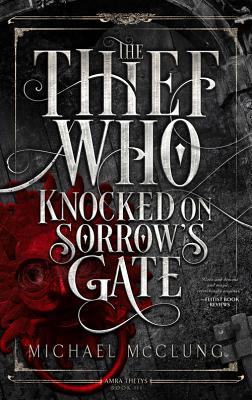 The Thief Who Knocked on Sorrow's Gate (Paperback)
Ragnarok Publications, 9781941987643, 250pp.
Publication Date: June 1, 2016
* Individual store prices may vary.
Description
After surviving Thagoth and returning rich to Lucernis, Amra and Holgren have settled down to a very comfortable, if decidedly unexciting life...until the night Amra receives an old enemy's head in a box.
A longstanding debt calls her home to Bellarius, the scene of many childhood horrors she would much rather forget. Yet, as bad as memories of the past might be, present-day Bellarius has become far worse, for the Eightfold Goddess has not forgotten about Amra. And another of the goddess's Blades, the Knife that Parts the Night, now threatens to tear the very fabric of reality apart. All that stands in the way of utter destruction is one small, scarred thief and her mage companion.
About the Author
Michael McClung was born and raised in Texas, but now kicks around Southeast Asia. He's been a soldier, a cook, a book store manager, and a bowling alley pin boy. His first novel was published by Random House in 2003. In his spare time, he enjoys kickball, brooding and picking scabs.
or
Not Currently Available for Direct Purchase