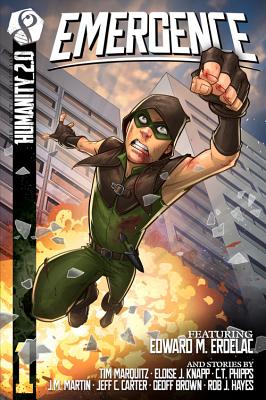 Emergence (Paperback)
A Humanity 2.0 Novel
Ragnarok Publications, 9781941987681, 450pp.
Publication Date: September 27, 2016
* Individual store prices may vary.
Description
Compiled and edited by award-winning editor J.M. Martin (Blackguards), Emergence (Humanity 2.0, #1) features nine shared universe tales of super-powered fiction. Inside are the works of:
• Edward M. Erdelac
• C.T. Phipps
• Eloise J. Knapp
• Rob J. Hayes
• Steve Diamond
• Jeff C. Carter
• Geoff Brown as G.N. Braun
• Tim Marquitz
In this open-ended series, an ancient trigger gene buried deep in humankind's DNA is sporadically activating, evolving some humans into something superhuman. Influenced by comic-book culture, many of these 'chimerics,' as they have been dubbed, have taken on costumes and adopted codenames. Organizations have risen up to either train, exploit, or police chimerics, and the world is at odds about their very existence. 
Emergence collects nine tales, each with a unique perspective on what it means to be superhuman in today's day and age of government surveillance and control.
About the Author
J.M. Martin has edited the Stabby Award-winning Blackguards: Tales of Assassins, Mercenaries, and Rogues and has written stories in anthologies such as Sails & Sorcery, Dark Heroes, Manifesto UF, Neverland's Library, and At Hell's Gates. He's also co-writer of the supernaturally weird Western series, Dead West. In 2013, he created Ragnarok Publications along with Tim Marquitz.
Praise For Emergence: A Humanity 2.0 Novel…
"A real treasure chest of short stories and novellas . . .The nearest parallel I can think of is Brandon Sanderson's 'Epic' series, with which this book shares some features and a similar quality of writing. However, Emergence stands on its own as a first-class literary offshoot of the comic book universe." —Robert Leslie, North Glasgow College review
"A great opportunity for authors to create their own superhero stories in a shared world, and as the story continues, it promises to get even better in future collections." —Richard Bray, Fantasy Faction
"One of the best anthologies I've read in recent years. Fun, action packed, and absolutely enthralling, Emergence punches above its weight and in doing so provides hours of reading delight." —Matthew Summers, Smashdragons
or
Not Currently Available for Direct Purchase