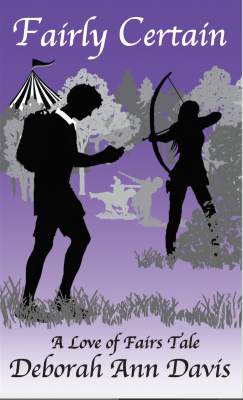 Fairly Certain (Love of Fairs #1)
Paperback

* Individual store prices may vary.
Description
After falling out of a tree in CT, Petir Capota, a 19 year old computer geek, finds himself back in Robin Hood's time surrounded by a band of young British scavengers. Confused by their presence in the CT woods, Petir decides it's a dream, which rapidly escalates in potential with the appearance of Maid Rianne, a captivating girl with a penchant for the bow and arrow. To his delight and her dismay, the elders allow him to join the outlaw camp.
Maid Rianne is tasked with tending to the newcomer's injuries. She finds herself conflicted with her interest in Lord Petir because she doesn't trust him; and she has an intended of her own, the handsome and loyal knight, Lord Robert Gisbourne. Unfortunately, he sympathizes with Prince John, and is angry she has sided with the outlaws.
EXCERPT:
"Are you injured, m'lord?" She inspected his battered cheek.
Petir stopped breathing and stared at her blankly. This was different. In the last two years, the only females who ever touched him were related to him. Or cleaning his teeth. They certainly weren't cute British girls garbed like a female Robin Hood.
Even though it hurt when she touched him, the simple act of running her fingers along his arm was reducing him to stupid, leaving him with all the capabilities of a puddle, including a puddle's ability to hold a conversation. He had nothing to say. Absolutely nothing.
What was there to say anyway? Come here often?
She shifted to his collarbone. "M'lord?" This time she spoke louder and slower as if talking to a simpleton. "Were you in a fight?" Her prodding fingers moved to his ribs as he grimaced.
Yeah. You should see what I did to the other guy. "No," he managed to mutter. He didn't want to appear to be an actual idiot, but... "I fell out of a tree."
"Pardon, m'lord? I did not hear you."
"I fell out of a tree, okay?" Petir's face heated.
A moment of silence greeted his confession, followed by a burst of laughter from the boys. The girl by his side ducked her head, hiding her own grin.
Embarrassed, he snapped, "And who are you supposed to be? Robin Hood and her Merry Men?"
With the boys snickering behind her, she chuckled as she reached across his body to examine the other side. "Not likely You may address me as Maid Rianne. And your name, sir?"
Squirming, Petir grabbed her wrist. "Look, I really appreciate the exam and all, but it's my leg. Okay? My leg needs help."
Startled, her eyes swung toward his, and whoosh All the air left his lungs.
Brown eyes. Very brown eyes. Very brown eyes with--
Her very brown eyes narrowed.
Uh oh. Petir released her like she was a hot potato. "No, honest. I can't stand. Watch " He rolled to his side but she restrained him.
"That will not be necessary, m'lord." She assumed a position closer to his leg. Her skilled fingertips resumed their examination.
Whoa This is way worse. Computer jockeys hardly ever got hot babes checking out their ribs, however, they absolutely did not get them feeling up their legs. Wish I had my cell phone so I could take a selfie. Hey there, Mistress Hottie, would you mind posing for a picture so I can prove you groped my leg?
​Whoops Her fingers drifted a little too high. Okay, this could end up being a problem. He needed a distraction.
"Hey, uh, you really know--Yowww " His attempt to chat her up ended with a yelp as she located his injury.
D&d Universe, 9781942009030, 250pp.
Publication Date: December 3, 2015