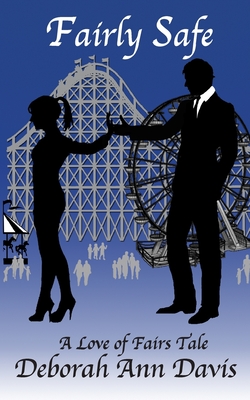 Fairly Safe (Paperback)
D&D Universe, llc, 9781942009054, 354pp.
Publication Date: August 1, 2016
* Individual store prices may vary.
Description
Jacob has come a long way for an orphaned foster kid. He has a mentor, a great job, and has finally fallen in love. Granted, she mistook him for a stalker when they met, but every relationship has its little problems. Unfortunately, for the past few years, as the object of his affection pops in and out of his life, she has refused to share any personal info, like where she's from, or her real name. Regardless, Jacob is ready to take their relationship to the next level. Now, if only he can locate her so he can tell her.
Casey's family is in the witness protection program. Safety has to be their only priority. Their cover has been blown before, so Casey knows at any given time they could be forced to disappear again. Obviously, a shy young man with hopeful eyes cannot possibly be added to the mix. Now, if only she can stop thinking about him.
Jacob's and Casey's worlds unexpectedly collide when Jacob inadvertently helps hide her family. Exposed to their 24-7 vigilance, Jacob realizes he must come up with a plan to keep them out of harm's way, because this time if Casey disappears, she will be taking with her Jacob's heart, and his hopes of finally having a family of his own.

About the Author
DEBORAH ANN DAVIS writes Quirky New/Young Adult Fiction with a Twist. An award-winning author, speaker and personal trainer, she is popular with students, parents, readers and authors alike. With an insightful and quirky approach to life, she shares life lessons with wit and compassion.

Twelve years after their first kiss, she reunited with, and married her childhood sweetheart. Together they coached their daughter's AAU Basketball Team, which swept States two years in a row. (Yay!) Then, for several years, their daughter and their money went to college.

During a particularly nasty bout of Lyme disease, Deborah turned to Fitness to boost her Health, and to Writing to boost her Happiness. Currently, she is a healthy and happy Educational Speaker and a Certified Personal Trainer who loves to write.

They presently reside on a lovely lake in Connecticut. When she's not writing novels for her Love of Fairs series, she enjoys dabbling with living a sustainable life, dancing, playing outside, and laughing really hard every day.
Praise For Fairly Safe…
One of the problems of publishing a sparkling debut novel is that of producing a follow up that is better or even as good. I am pleased to be able to report that Deborah Davis of "Fairly Certain" fame has surmounted this problem with what appears like great ease. Ms Davis's first effort, "Fairly Certain" was – is – a highly polished, sparkling gem of a book. Her follow up, "Fairly Safe," is an even more highly polished, highly sparkling bigger and brighter gem which encompasses all the shining facets of "Fairly Certain:" romance, humour, enigma, intrigue, human frailty and well intentioned deceit resulting in hopeless confusion. But has the additional ingredients of a genuine criminal threat to the lives of three delightful young people and close knit family involvement. This is a powerful, well mixed recipe and the result is a disbelief suspending roller coaster romp of a read that grabs the reader on page one and whisks he or she on a thrilling super fast ride of highs and lows to a gloriously happy ending. "Fairly Safe" made me laugh, it kept me in suspense, it kept me wondering where it was going and – dare I admit it? – in its closing chapters it even had my eyes filling up with tears. Ridiculous. "Fairly Safe" is, I suppose, aimed mainly at the young adult market but if it can entertain a guy like me in his sixties it must be good for all. Full marks to Ms Davis. "Fairly Safe" is worth five stars. No doubt about it at all. by D. A. Barker

Fairly Safe is a novel which is a fun-filled romp full of laughter, love, and mystery. I found myself laughing out loud at the antics of the siblings, Jacob, William, and their household staff; a staff which author Deborah Ann Davis masterfully integrated into family. As a result, Ms. Davis skillfully presented the fact that blood does not make a family.
In addition, Ms. Davis had more than a few plots in this novel which she skillfully brought together. Furthermore, the story-line in Fairly Safe was original and refreshing as she led us from one point to another. As a result, I wanted to read this novel straight through. Most noteworthy is Ms Davis' talent of keeping the mystery, intrigue, romance, and secrets at top peak. Consequently, the book held my interest in characters which I felt I knew and had to come to love.
Her characters are lovable and feel real to the reader. Fairly Safe is a feel good read which is well-written and developed. I gave a long and heartfelt sigh as I finished this book. Ms. Davis is a talented writer with the imagination and talent to grab the reader and keep them enthralled. Consequently, I was not ready to say goodbye to Cassie, Jake, and the gang. RECOMMENDATION FOR Fairly Safe: 5 STARS by Vera Mallard at Vera's Book Reviews and Stuff

I did enjoy the book and characters…The story and characters were real, honest, raw, compelling, intriguing, and mysterious too. by The Reading Machine on Goodreads

This book was amazing. Jacob captured my heart from the beginning. I loved him. He and Casey had me All kinds of emotional. Great book! This book was amazing. Jacob captured my heart from the beginning. I loved him. He and Casey had me All kinds of emotional. Great book!
or
Not Currently Available for Direct Purchase