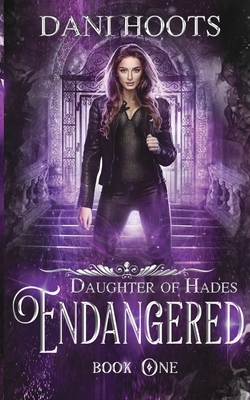 Endangered
Paperback

* Individual store prices may vary.
Other Editions of This Title:
Hardcover (5/10/2016)
Description
Fall deep into the Underworld with this Amazon Best Selling YA Fantasy Series Book 1/4 of the Daughter of Hades SeriesBe swept off your feet by this fresh take of Greek gods, goddesses, and demigods as they travel through the Underworld and into the streets of London Hidden in the Underworld for thousands of years by her father Hades, Chrys wishes she could leave and see the human world. However, she knows that if any of the gods find her, and discover her dichotomous power over life and death, they will destroy her. So she has remained in the Underworld Palace for her entire life, making very few friends, and always bored as hell, no pun intended.Huntley never imagined that after he died, he would wake up with a magnificent girl standing over him, especially one claiming to be the daughter of Hades. The Greek gods are real, and the god of the Underworld apparently has a daughter. Instead of sending him to the afterlife, she keeps him around to be her "tutor", even though he obviously doesn't have any expertise in anything other than being a punk. It is clear she wants him around to be her friend, and it is a task Huntley has no problem taking.But after a big fight with her mother Persephone, Chrys can't take it anymore and has to see what the human world is all about. Her and her two best friends decide to check out London, since that seems to be her mother's favorite place recently. It would just be for a couple of days, so nothing could go wrong on the streets of London, right?Includes an excerpt of Daughter of Hades Book 2: Engaged Fans of Lore Olympus, Percy Jackson, and The Faerie Games will enjoy Daughter of Hades Series: Book 1: Endangered Book 2: EngagedBook 3: Entangled (7/28/20)Book 4: Enchanted (11/10/20)"I am so happy to be back with my beloved Greek gods and especially Hades. ...] The book is fun, full of surprises and really entertaining " -Nadine Chucri, Amazon Review ★★★★★Wow This was one amazingly kickA book The writing was just phenomenally excellent The storyline was incredibly unique and had me completely enthralled from beginning to end -Alex_K, Amazon Review ★★★★★When I saw that this story was about Hades and Persephone and their struggle with their relationship and family I was hooked. And I am not disappointed. From the first chapter throughout the book I enjoyed this story. I felt for all the characters and the alternating storytelling from Chrys's and Huntleys point of view kept me wanting reading more. So if you like Greek mythology this is definitely a book for you. Can't wait for the next book in the series. -Maia Silverdagger, Amazon Review ★★★★I love this & I can't wait for more -Barb VanderWel, Goodreads Review ★★★★★
Dani Hoots, 9781942023401, 252pp.
Publication Date: May 10, 2016