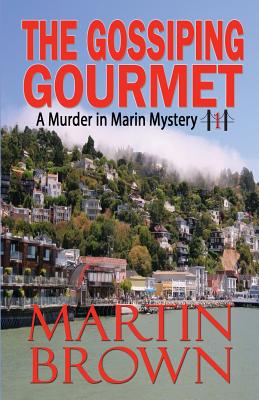 The Gossiping Gourmet (Murder in Marin Mystery #1)
Paperback

* Individual store prices may vary.
Description
In Book 1 of the MURDER IN MARIN Mysteries:
Warren Bradley, renowned as the local gadfly In the picture-perfect community of Sausalito, California, is esteemed by his admirers and despised by his detractors. But for love of his caramel chicken and cherry fudge brownies, everyone has a story to share regarding their fellow citizens--
Stories that too often find their way into his weekly gossip-filled newspaper column, "Heard About Town."
When the great chef and his admirers, the Sausalito Ladies of Liberty, take offense to a newly arrived Manhattan power couple, their insular world of tasty sauces and stinging insults leads to deadly results.
Everyone has their own theory about who killed Warren. But it takes the combined efforts of Rob Timmons, the local newspaper publisher, and Eddie Austin, his childhood friend and Marin County's top detective, to unravel this tale of delicious dishes and malicious deception.
Praise For The Gossiping Gourmet (Murder in Marin Mystery #1)…
THE MURDER IN MARIN SERIES

"I loved the setting--the characters pop off the page. The writing paints wonderful word pictures, bringing me right into the story. If you love small-town mysteries in the style of a parlor mystery ala Agatha Christie, this one's for you!" -- Deborah Coonts, The Lucky O'Toole Vegas Adventure Series

"Hands down, my favorite mystery writer." --John Gray, Men are from Mars, Women are from Venus

"Martin knows Marin County, and it shows. With snarky humor, he's captured the essence of living in small affluent communities, where nosy neighbors relish learning dirty little secrets." -- Josie Brown, The Housewife Assassin Series
Signal Press, 9781942052449, 284pp.
Publication Date: June 18, 2016
About the Author
Martin Brown is the author of the MURDE IN MARIN mysteries, including:

The Gossiping Gourmet (Book 1)
The Wicked Wife (Book 2)
The Phantom Photographer (Book 3 / 2016)
The Terrifying Teacher (Book 4 / 2016)

As a journalist, Martin's articles on health and relationships have appeared in Redbook, Playboy, and Complete Woman magazines, as well as SingleMindedWomen.com. Martin, a native of New York City, is a graduate of the New York University's Tisch School of the Arts. He began his career as a community affairs writer with WCBS Radio. He also worked as the public affairs officer for the New York City police association; and later in the same capacity for the Atlanta and Georgia police associations. He began his work as a community news reporter in Atlanta with Creative Loafing. Later, in Marin County, he founded Signal Newspapers, which were published in Sausalito, Tiburon, and Belvedere, California.

He and his wife, novelist Josie Brown, live in the city of San Francisco, where their grown children also reside.

Connect with Martin on:
Twitter: @MartinBrownCA
Facebook: https://www.facebook.com/MartinBrownCA