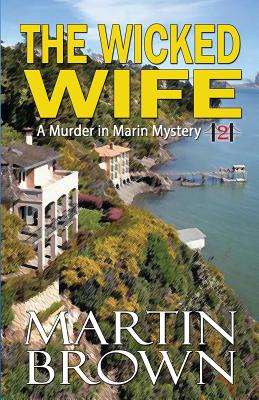 The Wicked Wife (Murder in Marin Mystery #2)
Paperback

* Individual store prices may vary.
Description
In Book 2 of the MURDER IN MARIN Mysteries:
Like everyone else, newspaper publisher, Rob Timmons, his childhood friend, Sheriff's Detective Eddie Austin, and their sidekick, Holly Cross, are baffled by the disappearance of Marin County's most recent celebrity resident, Willow Adams--better known to the world as the super-model with her own signature scent, Willow Wisp.
When Belvedere's most eligible widower, billionaire William Adams, married Willow, the local socialgrand dames were in an uproar--one that only got worse when they suspected Willow of lifting many of their most precious jewels.
But when the woman they refer to as "the wicked wife" turns up dead, the real finger pointing begins.
Was Willow's murderer one of her burglary victims? Maybe one of her many former (and current) lovers got tired of her half-truths. Or was it her cuckolded husband, who learned only too late that his ultimate trophy wife had too many secrets of her own?
Praise For The Wicked Wife (Murder in Marin Mystery #2)…
THE MURDER IN MARIN MYSTERIES:

"I loved the setting--the characters pop off the page. The writing paints wonderful word pictures, bringing me right into the story. If you love small-town mysteries in the style of a parlor mystery ala Agatha Christie, this one's for you!" -- Deborah Coonts, The Lucky O'Toole Vegas Adventure Series

"Hands down, my favorite mystery writer." --John Gray, Men are from Mars, Women are from Venus

"Martin knows Marin County, and it shows. With snarky humor, he's captured the essence of living in small affluent communities, where nosy neighbors relish learning dirty little secrets." -- Josie Brown, The Housewife Assassin Series

Signal Press, 9781942052456, 290pp.
Publication Date: June 18, 2016
About the Author
Martin Brown is the author of the MURDE IN MARIN mysteries, including:

The Gossiping Gourmet (Book 1)
The Wicked Wife (Book 2)
The Phantom Photographer (Book 3 / 2016)
The Terrifying Teacher (Book 4 / 2016)

As a journalist, Martin's articles on health and relationships have appeared in Redbook, Playboy, and Complete Woman magazines, as well as SingleMindedWomen.com.

Martin, a native of New York City, is a graduate of the New York University's Tisch School of the Arts. He began his career as a community affairs writer with WCBS Radio. He also worked as the public affairs officer for the New York City police association; and later in the same capacity for the Atlanta and Georgia police associations.

He began his work as a community news reporter in Atlanta with Creative Loafing. Later, in Marin County, he founded Signal Newspapers, which were published in Sausalito, Tiburon, and Belvedere, California.

He and his wife, novelist Josie Brown, live in the city of San Francisco, where their grown children also reside.

Connect with Martin on:
Twitter: @MartinBrownCA
Facebook: https://www.facebook.com/MartinBrownCA