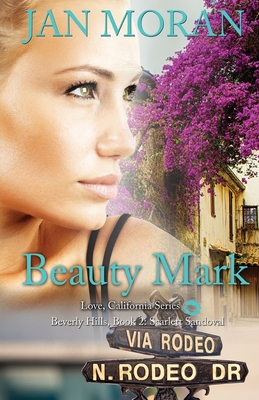 Beauty Mark (A Love, California Series Novel, Book 2) (Paperback)
Sunny Palms Press, 9781942073680, 300pp.
Publication Date: December 15, 2014
Other Editions of This Title:
Compact Disc (8/15/2017)
MP3 CD (8/15/2017)
* Individual store prices may vary.
Description
A treacherous boss. The client from hell. Can Scarlett survive a deadly career while an old friend turns into a new love? Style meets suspense...
In the glamorous world of high stakes beauty and fashion, Scarlett Sandoval is a top intellectual property attorney flying between Los Angeles, New York, London, and Madrid. In the midst of a critical trademark deal between a top fashion designer and an international cosmetic company, Scarlett is shocked to learn that in order to achieve her coveted partnership, one devious partner expects more than she is willing to surrender. Soon she is marked for murder.
Her denial not only threatens to derail her hard-won career, but it also endangers her life and the lives of those close to her. Johnny, a handsome Beverly Hills restaurant owner she's known all her life, offers his protection, but one fateful evening, their platonic friendship ignites.
When Scarlett's world erupts and she discovers there is no way back to the life she once had, her other single friends help her through the turmoil. Can Scarlett mend her life, or has she made an irrevocable mistake in business, and in love? Find out in this suspenseful romantic saga.
Beauty Mark is part of the Love, California series of linked, stand-alone novels that can be ready in any order. Set in Southern California with international travel, this fun series features a group of best friends determined to live the lives of their dreams while navigating the turbulences of dating and family life.
Tasteful Women's Fiction, Rating: PG. Also available in audiobook. Visit JanMoran.com.
JAN MORAN'S BOOK AWARDS: Reader's Favorite Bronze Award for Historical Fiction, San Diego Book Awards Finalist
" Jan Moran] gives fans of romantic sagas a compelling voice to follow." Booklist
"An engrossing view into the world of 'beautiful people' with an ending that will leave you wanting more." - New York Times and USA Today bestselling author Melissa Foster
THE LOVE, CALIFORNIA SERIES:
FLAWLESS (Verena and Lance in Beverly Hills and Paris)
BEAUTY MARK (Scarlett and Johnny in Beverly Hills and Spain)
RUNWAY (Fianna and Niall in Malibu and Ireland)
ESSENCE (Dahlia and Alain in Paris and Monaco)
STYLE (Penelope and Stefan in New York and Copenhagen)
SPARKLE (Elena and Jake in LA and Sydney)