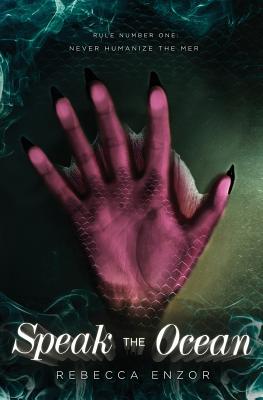 Speak the Ocean
Paperback

* Individual store prices may vary.
Description
For Mer handler Finn Jarvis, the feral mermaid performers at Oceanica Marine Park are nothing more than ruthless aquatic predators, violent and unpredictable. That doesn't stop the public from flocking to one of the world's most popular tourist attractions. To them, the Mer are magical entertainment, too beautiful to be dangerous. They don't see what happens to the ones who dare swim out of line.

Newly caught Erie doesn't know what the evil landfolk want from her. Alone and voiceless, she watches the other merfolk from the confines of her tank. Broken into submission, they've become shells of the once vibrant creatures she knew. But Erie refuses to be subjugated. She'll get the crowds to see her as something more than simple entertainment--starting with her captor, Finn.

While Finn trains Erie in her routine, she secretly teaches herself the air-words he and the other trainers speak. And when the language barrier falls, Finn starts to realize that the gap between human and Mer is smaller than he thought, and maybe it's not the Mer who are monsters, after all.

Set against the backdrop of a familiar and beloved fairy tale, this stunning debut, as brutal as it is beautiful, explores the morality of subjugating other species to the whims of entertainment, daring readers to find humanity in the inhuman.
Praise For Speak the Ocean…
"Reader's hearts will break for the despairing captive Mer and the few humans who understand and love them." Publisher's Weekly.

"The voice sinks its claws into you from the first chapter and never lets go." Michael Mammay, award winning author of PLANETSIDE
Reuts Publications, 9781942111597, 402pp.
Publication Date: July 9, 2019
About the Author
Rebecca Enzor is a fantasy author and analytical chemist in Charleston, SC, where she lives with her husband, two dogs, three cats, and sometimes chickens. Her articles on writing science in science fiction can be found in "Putting the Science in Fiction" from Writer's Digest Books. Obsessed with everything ocean, she studied fisheries biology in college and electrocuted herself collecting fish in a river, which inspired several key scenes in her debut novel. She's represented by Eric Smith of P.S. Literary.