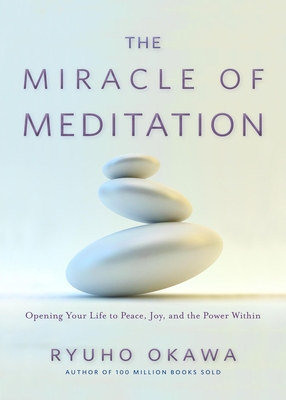 The Miracle of Meditation (Paperback)
Opening Your Life to Peace, Joy, and the Power Within
Irh Press, 9781942125099, 224pp.
Publication Date: October 4, 2016
* Individual store prices may vary.
Description
There is more to meditation than simply sitting quietly and emptying our mind. When we look within and practice contemplative meditation, we will be able to connect to a higher world, and receive inspirations and guidance to live a better life. This book introduces various types of meditation, including calming meditation, purposeful meditation, reading meditation, reflective meditation, and meditation to communicate with heaven. Through reading and practicing meditation in this book, we can experience the miracle of meditation, which is to start living a life of peace, happiness, and success. With how-tos and answers to common questions about meditation, this simple but profound book will awaken your soul and encourage you to start living a more mindful, positive, and fulfilled life.
About the Author
RYUHO OKAWA is a global visionary, renowned spiritual leader, and best-selling author in Japan with a simple goal: to help people and true happiness and create a better world. His deep compassion and sense of responsibility for the happiness of each individual has prompted him to publish over 2000 titles of religious, spiritual, and self-development teachings, covering a broad range of topics including how our thoughts influence reality, the nature of love, and the path to enlightenment. He also writes on the topics of management and economy, as well as the relationship between religion and politics in the global context. To date, Okawa s books have sold over 100 million copies worldwide and been translated into 28 languages. Okawa has dedicated himself to improving society and creating a better world. In 1986, Okawa founded Happy Science as a spiritual movement dedicated to bringing greater happiness to humankind by uniting religions and cultures to live in harmony. Happy Science has grown rapidly from its beginnings in Japan to a worldwide organization with over 10 million members. Okawa is compassionately committed to the spiritual growth of others. In addition to writing and publishing books, he continues to give lectures around the world."